Souvenirs & Shopping in Gulf Shores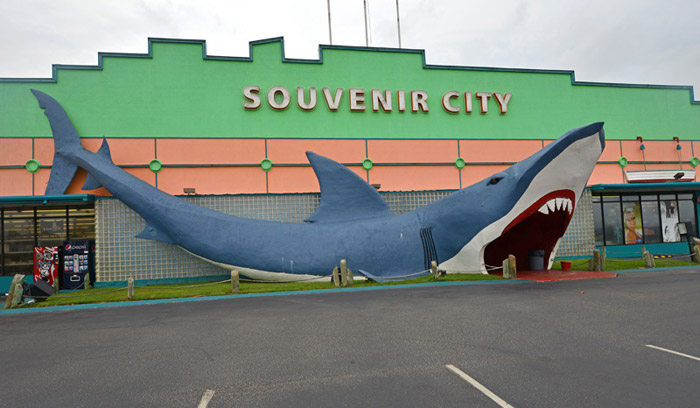 You may want to pick up a souvenir to remember your trip to Gulf Shores. Or, barring that, you'll probably at least want to pick up some sunscreen and an umbrella or cover-up to keep from getting burned. Here's where you can find a huge selection of souvenirs and other beach gear in the Gulf Shores area.
Souvenir Shops
You may not think you need a trinket to remember your vacation in Gulf Shores? until you walk into a local shop and find the perfect seashell or a bizarre-but-amazing denim shirt with an embroidered marlin. Good luck resisting these and other Gulf Shores souvenirs?including salt water taffy, shot glasses, T-shirts, and even pet hermit crabs?at Souvenir City in Gulf Shores. Even if you manage not to buy anything, you can still get a photo with the giant shark mouth that serves as the store's entryway.
If you're looking for even more souvenir shopping, try Beach Reflections, an eclectic little beachfront gift shop that features art and jewelry produced by talented locals. End your shopping day at Tacky Jack's, where you can get satisfying beach food in their restaurant after you pick out a shirt or shot glass in their gift shop.
Shopping at the Wharf
Did you pack a little too lightly for your trip to Gulf Shores or Orange Beach? Head to the Wharf Marina in Orange Beach, where you can shop for clothes at boutiques including Lucca, Ooh La La, and Utopia. You can also find men's and women's clothing at Ocean Eddie's, along with brand name sunglasses at Shades. There are even several restaurants at the Wharf, so there's no need to shop on an empty stomach.
Shopping at Sanroc Cay Marina
Farther down Perdido Beach Boulevard, you'll find more Orange Beach shopping options at the Sanroc Cay Marina. This is a good place to go if you forgot to pack your swimsuit, as both Blue Lagoon Boutique and Too Hot Mamas carry swimwear (and although the name might be misleading, Too Hot Mamas carries both men's and women's clothing).
Beach Gear, Basic Amenities, and More
Who's actually organized enough to purchase everything they need for the beach ahead of time? Trust us, you're not the only one who's going to be picking up extra sunscreen, a towel, and an umbrella once you get to Gulf Shores. Fortunately, you don't have to go far out of your way to find the basics?the Pier 33 grocery store is right across the street from the main public beach. In addition to food and drinks, they carry ice, inflatable floats, bait, tackle, and even souvenirs. And on the off-chance that you don't find what you're looking for, you can always walk to the nearby Waves Grocery and Package Store.
When you arrive for your beach trip in Gulf Shores, don't stress if you didn't pack everything?our shops have everything you need. If you need to find a rental visit our booking engine or review our Hot Deals Page. You'll find ways to save money so you can spend more on souvenirs!