Our Beaches: Gulf Shores & Orange Beach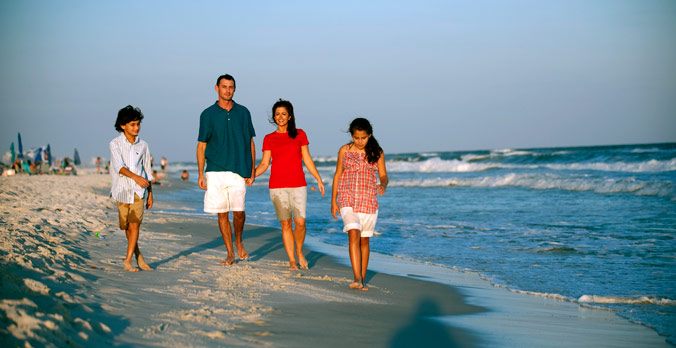 The miles of sugar sand coastline that make up the Gulf Shores and Orange Beach area are the gem of the region. These Alabama beaches are some of the finest on the Gulf of Mexico, known for their soft sands, gentle family friendly waves and warm waters.
Down here, we have a beach for every taste. Want something quieter? Enjoy the peacefulness of West Beach, one of our Gulf Shores beaches. Want to be at the heart of the action? Gulf Shores State Park allows you to combine rest and relaxation on the beach with fishing, hiking, volleyball, and more. Swim, run, fly a kite, simply enjoy the beach to your heart's content.
Learn a bit more about what makes our beaches special by reading the articles here. Find out how we got those white sugar sands for which we are so famous. Learn more about the vacationer friendly Gulf Coast beaches, with their mellow waves that make ferry rides and other water activities much easier for those prone to sea sickness. One of the many reasons families prefer Gulf Shores is our consistently warm and relatively calm waters. They're especially great for giving the littlest ones a happy memory of the beach and a taste of ocean living that will make them excited for vacations for years to come. You'll also learn here of how, perhaps contrary to some lingering belief, how clean our waters are. Gulf Shores boasts 2 of the 13 "5 star for cleanliness" rated beaches in the U.S., as awarded by the environmental nonprofit Natural Resources Defense Council (NRDC).
Our favorite thing about our Alabama beaches is that you join us on them year round! Check out our Gulf Shores condos and Orange Beach rentals to find your perfect place to enjoy our stunning coast.
[related_articles]