Beachfront Condos in Gulf Shores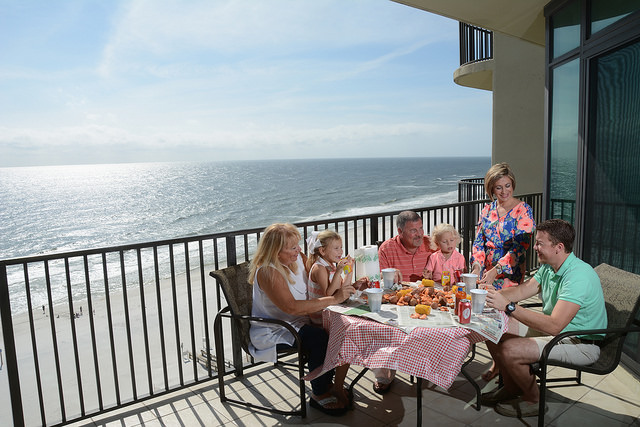 When taking a vacation at the beach, everyone prefers to have a beach or Gulf view from their room, or at least stay in a condo that has beach access. When planning your trip to Gulf Shores, Alabama, here are some condos with beach access and beach views that you'll want to check out. These Gulf Shores condo rentals don't only offer you the luxury of stepping outside and walking a few steps to the waves and white sand, they also provide other great amenities that you and your family can enjoy in addition to taking in the beachfront view from your condo balcony.
Island Winds East & West
The Gulf Shores condo rentals available at the Island Winds complexes are beachfront condos, and they are centrally located. They are close enough to downtown Gulf Shores to be able to walk to shops or bars and restaurants. No driving necessary on this vacation! This condo complex has a pool that overlooks the Gulf. Walk a few steps away from the pool, and you're on the beach. There's also a barbecue area, Wi-Fi and a kids' pool at the Island Winds West property.
Seacrest
The Seacrest condos in Gulf Shores are located right on West Beach and offers fantastic Gulf views. Watch the waves, birds and ships on the Gulf from your private balcony. Seacrest also provides wireless internet access and an outdoor pool and hot tub. There are also barbecue grills and a gazebo. The resort also rents beach chairs and umbrellas so you can be comfortable on the white-sand beaches all day long.
The Lighthouse
The Lighthouse condos provide amazing 180-degree views of the Gulf, and not only that, visitors have access to the 635-foot private beach right outside. The Lighthouse condos have luxurious amenities, including master bathrooms with Jacuzzi tubs, indoor and outdoor pools and a sauna and hot tubs. The Lighthouse is also centrally located enough that you can walk to restaurants and enjoy a night on the town without driving.
Ocean House
The Ocean House condos are also centrally located with beach views and beach access. They are located just a mile down the road from the Island Winds condos. The condos at Ocean House have private balconies, gazebos and a barbecue area. They also have the longest outdoor pool in Gulf Shores, which kids will get a kick out of, and a kiddie pool for the little ones.
View all of our Gulf Shores condos. Browse through beachfront condos at large, luxurious resorts with multiple amenities, or look for small, hidden gems with smaller crowds. Brett-Robinson has them all!
[related-pages]