The Annual John L. Borom Alabama Coastal Birdfest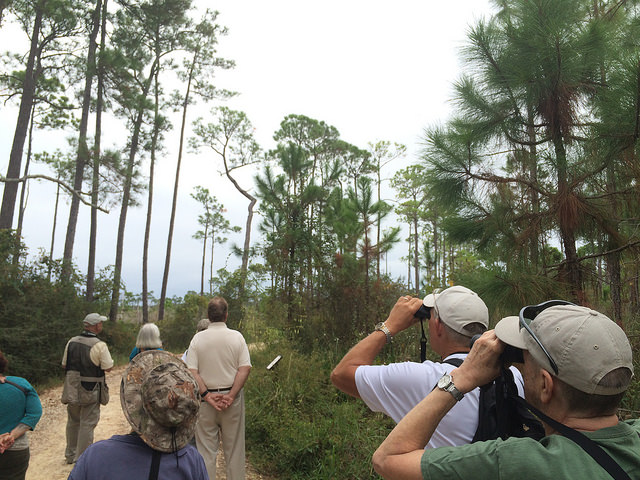 Looking for things to do near Fairhope, AL? The Alabama Gulf Coast is internationally recognized for its biodiversity, and that reputation earns its plumage every year as the annual John L. Borom Alabama Coastal Birdfest takes flight at the beginning of October.
Taking place for over a decade and counting, this celebration of avian life (and all wildlife) along the coastal area attracts visitors of all ages from around the world, all of whom share an interest in bird watching or who simply love to revel in the splendor of the natural beauty of the Alabama Gulf. What makes all of this even more worthwhile is that the proceeds generated are dedicated to protecting the birding habitat of the Alabama Gulf Coast. Is there a better definition of a mutually beneficial relationship?
While the festivities do not actually begin until the early evening of the first day of the Birdfest with the check-in and orientation event at the Delta Hall at 5 Rivers Delta Resource Center in Spanish Fort, AL, registration usually begins in early August. Because attendance has grown every year, potential visitors are urged to tap their inner early bird and sign up as soon possible and make arrangements for accommodations. We do not want anyone to be left out. Book your Orange Beach condo or Gulf Shores rental early to make sure you have the exact home away from home that you want.
What to do, what to do?
Regardless of whether you are a well-seasoned birder skilled in the ways of feathered fauna, a novice just beginning to earn his or her wings, or simply a curious onlooker wondering why everyone has his or her feathers all a flutter, Alabama?s Coastal Birdfest has plenty for everybody.
With dozens of planned expeditions, this marathon of Alabama bird watching takes place on land, shore, and Gulf, led by experts in the field. In addition to birding expedition, there is always a list of knowledgeable speakers to hear. Past speakers have included nature photographer Spence Harrison and Director of Bird Conservation with Louisiana Audubon, Dr. Erik Johnson.
Walking and boating trips occur several times each day of the bird watching tour and cover every area of the region from Bon Secour National Wildlife Refuge to the Dauphin Island Trans-Gulf Migration Highway. There are also historical adventures that take you back centuries with an interpretive tour of the native populations that once inhabited the area. Other activities include trips through Bayou La Batre, the Grand Bay National Wildlife Refuge, and the Fort Morgan peninsula.
While every minute of this bird watching event is packed with plenty to do, there is always room for more! In 2013, two sunset cruises were added to the list of activities for those who enjoy their birding as twilight falls gently over the waterways of South Alabama. For those who like some refreshment for their beaks while birding, one of these cruises incorporates a wine tasting element. Whether you prefer a nice red while watching a Warbler, or a white with a Heron or Hawk, it is sure to be a grand adventure that you can recount while enjoying the last light of day over the waves from our Gulf Shores condos and Orange Beach rentals each evening.
Who can come?
This event is open to anyone and everyone, and is a great way for friends and family to spend time together in the great outdoors. While most of the activities are designed for those 12 and older, there are events specifically geared for the younger crowd. Again, registration begins in August, so everyone is encouraged to sign up early and claim a spot. Even though there is much going on, plenty of places to go, and countless things to see, space is limited. So, dig out your binoculars, spotting scopes, cameras, and walking shoes, and flock down to the coast for what will surely be one of those life-defining moments at the John L. Borom Alabama Coastal Birdfest.
To take full advantage of all that the Annual John L. Borom Alabama Coastal Birdfest has to offer, make sure to book your stay with one of our Gulf Shores condos or Orange Beach rentals, located conveniently close to all the action. Click here to check reservations or call us at 1 (800) 211 - 7892.