Grandparents' Relief Tour Itinerary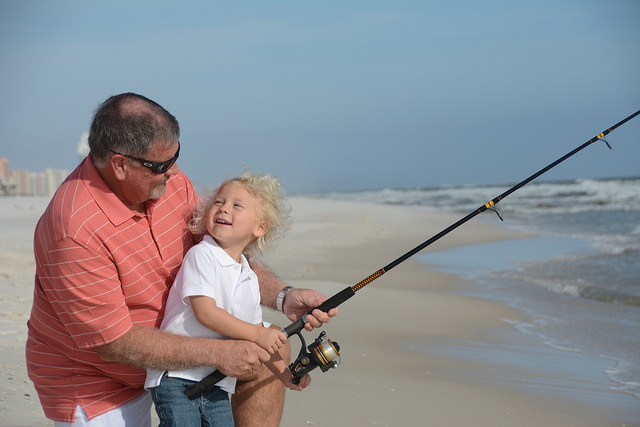 Multi-generational vacations are the best. Time away together allows everyone to relax and spend true quality time experiencing new things together - and Gulf Shores offers a wonderful variety of family and kids activities. For grandparents looking for things to do in Gulf Shores when they're with the kids, our vacation itinerary has plenty of great suggestions!
Day 1:
Waterville USA
Find a comfortable spot to sit and watch as the kids make a splash at Waterville USA, a 20-acre water and amusement park in Gulf Shores. Or if you are feeling brave, get in on the action yourself with a roller coaster ride or even some surfing fun on the Flowrider.
Crab hunting on the beach
Treat the kids to a special treasure hunt on the beach when the sun goes down. The only tools you'll need are a flashlight, small net and a vented container. Sand crabs are small, translucent crabs that come out at night. Scoop one up with your net and place it in the container to observe. Just remember to be nice to the crab and release it back on the beach.
Day 2:
Alabama Gulf Coast Zoo
Almost running from A to Z, the Alabama Gulf Coast Zoo - "The Little Zoo That Could" - features more than 500 animals from alligators to wallabies. Elevated viewing decks offer great views and the petting zoo is a big hit with the kids and adults too. Expect a few shrieks of excitement in the Reptile House. And be sure to inquire about which Animal Encounters are available while you are in town!
The Track
Show your grandkids you can still swing with a round of miniature golf. Or challenge them to a little more action with the Bumper Boats or a race around Wild Woody - a 3-story wood track. For the younger kids, check out the Kids Kountry area. For a real scream, brave the Sky Coaster and experience the thrill of free fall.
Gamestop at Pelican Place
Do your grandkids always seem to have some type of gaming system in their hands? If so, take them to Gamestop at Pelican Place shopping center in Gulf Shores for the latest releases for Xbox, Play Station and Nintendo.
Day 3:
Adventure Island
Ready for more mini-golf, bumper boats, go-karts and games? Great! Head over to Adventure Island in Orange Beach for a high-energy day. Or plan your visit for the evening hours and see the volcano erupt each night!
The Wharf
Something for all ages. Stroll the sidewalks and check out all the cool shops. Get a bird's-eye view of the area from the tallest Ferris wheel in the Southeast. Let the kids burn off some energy at the Water Plunge and The Wharf Adventure Zone which includes an 800-foot-long zipline and a 32-foot-tall ropes course. If a rain shower changes your plan, see what's playing at the Rave Motion Pictures. Don't miss the nightly light shows!
The Sugar Shack
It's always best to end a day of fun in the sun on a sweet note. Indulge your grandkids (and yourself) with a stop at The Sugar Shack at The
Wharf. Pick your favorite candy or ice cream. Heck, no one will tell - pick both!
Day 4:
Fort Conde
Load up the car and take a drive over to downtown Mobile for a day of fun and a little learning too. Stop at Fort Conde, the city's welcome center that is a partial replica of the original 18th-century French fort. Costumed guides will share the city's history. The kids will love the musket and cannon fire.
Gulf Coast Exploreum
Learning really is fun at this hands-on science museum. The Exploreum features four exhibit areas, two labs, a virtual theater and an IMAX Dome Theater. With more than 150 interactive exhibits, you'll want to plan for several hours here.
LuLu's at Homeport
On your way back to Gulf Shores and Orange Beach, stop for dinner at LuLu's at Homeport. It's located on the Intracoastal Waterway and features great activities for the kids, including a ropes course and an arcade. And the food is wonderful, with cheeseburgers made from grass-fed beef.
Day 5:
National Museum of Naval Aviation
Spirits and imaginations will soar in Pensacola at the National Museum of Naval Aviation. The museum features an impressive 300,000 square feet of displays and more than 150 lovingly restored aircraft. It's a great place to share history lessons with your grandkids. Museum admission is free; there is a charge for the IMAX movies.
There are so many things to do with kids in Gulf Shores, Alabama that everyone in the family, including the grandparents, can enjoy! Get vacation ideas by perusing all of our Gulf Shores and Orange Beach itineraries. Book your trip today - visit our online booking page or call 800-211-7892!