Easter Family Activities in Gulf Shores & Orange Beach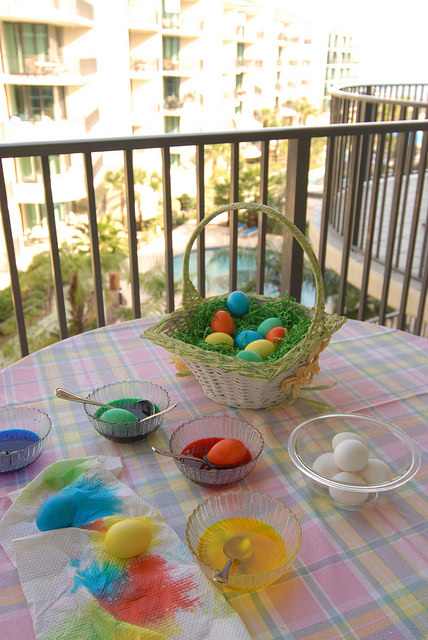 Gulf Shores and Orange Beach aren't only fun places for adults to relax and enjoy Easter Weekend. It's also a great place for kids! There are several Easter egg hunts that take place in and around Gulf Shores, and the Easter bunny makes several appearances throughout the weekend. There are plenty of activities for families to enjoy through the weekend.
Easter at the Wharf
The Wharf in Orange Beach is always a fun place to go with several shops and restaurants and events throughout the year. On Easter Weekend, the Easter Bunny shows up at the Wharf Marina Lawn between 11 a.m. and 4 p.m. to take pictures with the kids. There is a free Easter egg hunt that begins at 11 a.m. on the Saturday before Easter every year. The lawn is divided into sections for younger and older kids (6-10), and there are over 5,000 eggs hidden across the lawn. There are also several other activities for kids to enjoy such as gigantic coloring sheets, moonwalks or bounce houses, face painting, live music and real bunnies to watch and pet. Treat your family to a meal at one of the Wharf's many restaurants to combat the sugar highs!
Other Local Events
The Easter Bunny also shows up at Lulu's in Gulf Shores at their annual Easter egg hunt that always takes place on Easter Sunday at 2 p.m. This egg hunt is also separated by ages to make the hunt fair for everyone. The Hangout located on the beach in Gulf Shores always hosts an Easter sunrise service starting at 6:30 a.m. that follows with live Christian rock music and breakfast at the venue's restaurant. The Hangout also has a sand pit, foam parties and courtyard games, including foosball and ping-pong. It's non-stop family entertainment. Also check out the schedule at the Flora-Bama Lounge on the Florida-Alabama border. They often have an Easter event on the beach for kids that includes an Easter egg hunt, a visit from the Easter Bunny, and other games and activities.
The Cottontail Express
Throughout the year, the Wales West Light Railway in Silverhill puts on different holiday events such as the Pumpkin Patch and Arctic Express. In the month of Easter, however, the train becomes the Cottontail Express. Families ride a real steam train through the park to meet the Easter Bunny. Tickets are $15 per person, and children two and under ride free. There are also lots of other activities for young kids such as pony rides, a petting zoo, treats and refreshments and an Easter egg hunt. You can also hear live bluegrass or gospel music on Fridays. Wales West is located in Silverhill, AL, which is just about 45 minutes north of Gulf Shores.
Spring Gardens
Easter is a great time of year to make a trip to Bellingrath Gardens on the other side of Mobile Bay. The Bellingrath Gardens & Home consist of a breathtaking 65 acres of sprawling oak trees, water features, and thousands of seasonal blossoms. Over 250,000 brilliant azaleas bloom in March. They also host Easter events. Even without the eggs and the Easter Bunny, kids will be enchanted by the sight of these beautiful gardens the same as adults.
Book a Gulf Shores or Orange Beach condo or beach house now and have enough room for the whole family on Easter Weekend. The kids will have a blast!