Gulf Shores and Orange Beach in the Fall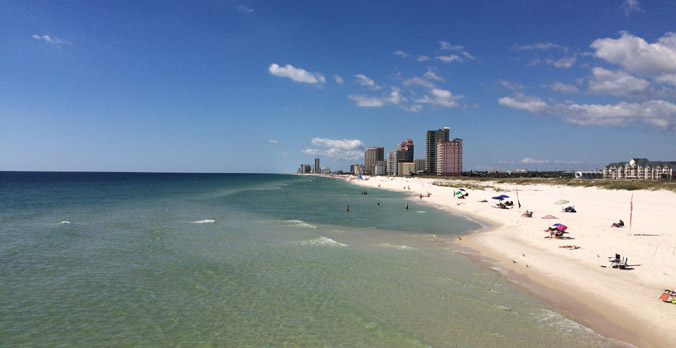 Fall is one of the best times to visit Gulf Shores, AL and the soft sands of Orange Beach. Gulf Shores in the fall combines Orange Beach's cool breezes with the limitless fun that countless visitors enjoy during the steamy summer months. While most vacationers enjoy cooling off at the beach during the year's hottest season, there's so much happening at Gulf Shores and Orange Beach in the fall left undiscovered.
Welcome the cool temperatures and wide-open beaches on your well-deserved Orange Beach & Gulf Shores fall vacation in beautiful Alabama this year! Here's why:
Fresh, Cool Air In the fall months, Gulf Shores and Orange Beach enjoy warm, easy temperatures. In fact, our temperatures are hard to beat nationwide. Take a look at our historical averages:
September - High of 87 ° / Low of 68 °
October - High of 79 ° / Low of 57 °
November - High of 70 ° / Low of 49 °
Midday highs by themselves tell you when the best time to visit Gulf Shores and Orange Beach is. Alabama in the fall boasts ideal temperatures accented by cool breezes that won't leave you freezing in the sand. The summer heat warms up the water so you can go for a dip in the ocean or just lay under the sun without worrying about your comfort.
Gorgeous Scenery
Shifting weather patterns bring forth gentle waves and stir up fallen leaves in the hidden parks and recreational areas of Orange Beach. You can't beat the view from our world-famous golf courses. The autumn weather will transform your view of beach, as well.
Save Some Money
Fall is the perfect time to save on your long-awaited vacation. You can get incredible deals and discounts on your travel and lodging expenses during non-peak vacation days. Take some days off of work midweek and recharge in the cool, fresh air of Orange Beach during the surreal fall months in Gulf Shores.
When you drop by, you may find stores and vendors that drop prices on some of their amazing food and drink after guests leave at the end of summer. You could get exclusive deals on everything from cuisine to gifts, and you might even be able to enjoy discounted spa days and massages.
Off-Season Means Greater Freedom
If you like a vacation that bustles a little less, try a fall vacation in Gulf Shores and Orange Beach. The wild atmosphere of the summer months gives way to a more charming and personal vacation environment in which individuals and families can maximize their time together.
You'll also be able to enjoy some exclusive Alabama offerings in the fall. Take part in the Gulf Shores Shrimp Festival in October, an extravaganza that celebrates the wonder and versatility of everyone's favorite seafood - shrimp. The festival invites over 300 vendors to show off their art, homemade crafts, and unforgettable shrimp recipes.
Taste warm, homemade apple cider and tour the beauty of the countryside as you reminisce about childhood vacations in the crisp autumn weather. Take your pick - lay on the beach, enjoy rounds of golf, spend a day at the spa, or breathe in the fresh air at your favorite park.
When fall comes to Gulf Shores and Orange Beach, the fun is just beginning. Book a condo in Gulf Shores or Orange Beach with Brett Robinson today for this fall to enjoy one of the best times to visit.