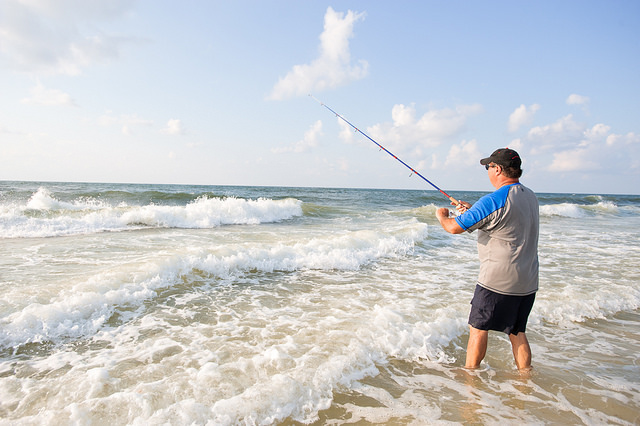 Just off the Alabama Gulf Coast, the waters teem with a wide variety of fish, chomping at the bait in every season. No need to carve a hole in the ice - fishing in the warm waters of the Gulf is always a seasonable activity. It's also a popular activity, and there's more than one way to reel in that big boy.
You have lots of options in case you forgot to bring a boat with you. Yearning to net a record-breaker? Enlist the help of a charter boat to go deep-sea Gulf Shores fishing. Local charters will have the inside scoop on where you're most likely to get a bite. Out in the deep waters you can seek out trophies like amberjack, king mackerel, and flounder. Charter captains can navigate directly to the reefs and artificial wrecks where the biggest, tastiest fish congregate.
Charter boats are a great way to explore the coast even if you're not ready to commit to a deep-sea fishing challenge. Inshore charters can take you on a relaxing tour of the bays and deltas, with no pressure to net a sea monster. Some will even provide your bait and tackle as part of their Gulf Shores / Orange Beach fishing packages.
Not sure of your sea legs? Spend quality time with your rod and reel on the Alabama Gulf State Park Pier, conveniently located near our Gulf Shores rentals and Orange Beach condos. It's the longest fishing pier on the Gulf of Mexico, so there's always plenty of pier-estate and fish to go around. Depending on what time of year, the pier offers affordable, low-maintenance fishing for grouper, pompano and red snapper, to name just a few.
If you want to take your passion for seafood to the high seas, the Gulf is the perfect place to exercise your seafaring know-how, and your spirit of adventure. But some days it's hard to tear yourself away from the beach. So relax! You're no less of a fisherman if you stick your rod in the sand, sit back, and let the fish come to you.
Ready for some of the best Alabama fishing has to offer? Book one of our Gulf Shores condos or Orange Beach rentals today!