Gulf Shores & Orange Beach Charter Fishing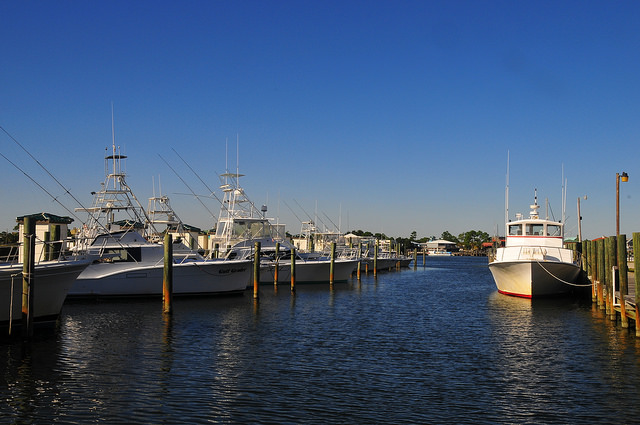 One of the great opportunities about a visit to the Gulf Shores area is the chance to go salt water fishing in the Gulf of Mexico. From rookie to veteran fisherman, chartering a boat in Gulf Shores, or Orange Beach will be a memorable adventure.
Charter Boat Fishing Options
The first thing you'll need to do is figure out the kind of fishing experience you want to have. For first timers, or for groups that include younger children, you might want to test the waters with a "party boat fishing charter". In your research you will see this term come up. It's not a booze cruise. A party boat fishing charter, also called a "head boat" or an "overload boat", is a boat that can carry up to 50+ people. You'll get less individualized attention, and you'll most likely be fishing with other rookies, but you will get the sense of whether you enjoy deep sea fishing or not. The great news is you'll only be out about $75 for a 4-hour journey.
A more personal Orange Beach charter fishing option is a shared-expense, or semi-private trip. It's the same experience as a private charter, but you'll be sharing the boat with other groups. The up side is you can experience a bigger boat, and you'll meet fellow fisherman.
The ultimate Gulf Shores charter fishing boat is a private charter. The whole boat and crew belongs to your group. The outing will include instruction, tackle and bait. A 6-hour expedition can cost $1,500-$2,000 for a 6 person boat. The 15% to 20% crew fee/gratuity is added to the charter boat fee.
Selecting Your Orange Beach Charter Boat
Since chartering a boat is a nice sized investment, you'll want to match your expectations with the right charter company. Given that you will be spending more than a $1,000 on Orange Beach charter fishing, looking to save a few bucks here and there is not the wisest choice. Look for the right match. Here are some tips:
Do your research online. There are chat rooms and forums that will provide you with insight to the "style" and "tone" of the charter boat.
Consider who your captain and crew will be. Some are all about getting fish in the boat, others are about the experience, and some are more about teaching. They all want to catch fish, but they just have different approaches.
Do you want to catch and keep the fish, or catch and release? Maybe you want to catch it, take a picture and then release. All of these are just fine. Pick a charter that suits your style. If you want to catch and keep, some charters will even cook it up for you.
If you know a bit about fishing, you might want to ask about their fishing tackle and what techniques they use. Are they going to troll, cast light tackle, or bottom fish (reef fishing)?
There are quite a few types of boats that can be used for Orange Beach and Gulf Shores fishing charters. There's a bit of a trade-off between creature comforts and the fishing rig set-up. Newer boats are likely, but not always better than older boats. Boats range from 30' boats with minimal galleys, to 65' boats that can sleep 12. Take a little trip out from one of our< Gulf Shores rentals or Orange Beach condos and check out the boat before you rent it.
Charter Boat Fishing Options
You'll most likely be deciding some of these things as you research your trip, but at some point you need to determine how long of a deep sea fishing trip would you like to take. The options are 4, 6, 8, 10 and 12 hour trips. Don't get discouraged if you want a longer fishing trip. There are overnight and multiple day charters available.
On the longer trips (18+hours) you will start by catching your bait. While you sleep, rest or socialize, the boat will get out to the deep water rigs looking for bigger fish like red snapper, amberjack, red grouper, yellowfinor blackfin tuna.
Price Ranges
Pricing is really determined by the size of the boat and the length of the tour. A 6-hour tour on a fishing boat that holds up to 6 people will cost between $1,200 and $1,500 including tips. A 10 Passenger Fishing Charter for 6 hours will cost around $2,000. If you are taking 6 people out on a 24 hour trip, be prepared to spend $4,000+. For $11,500 you can charter a 65' boat that sleeps 12 on a 48-hour fishing expedition.
Have the fishing vacation of a lifetime by chartering a boat while staying at one of our Gulf Shores condos or Orange Beach rentals! Get the most out of the Gulf by contacting us today.