Choosing Gulf Shores as your Birmingham Getaway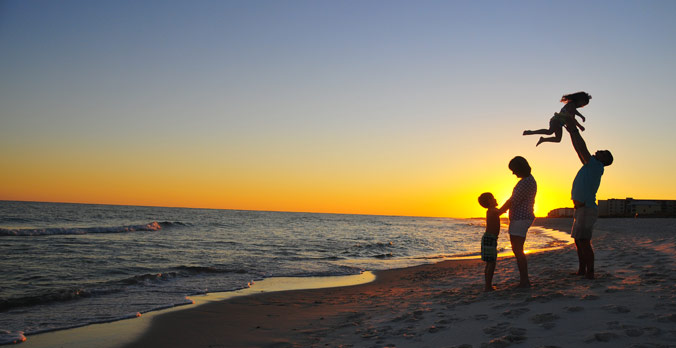 Every year, families in southern towns like Birmingham, Alabama, get together and choose their summer destination. If you're one of the many families for whom "summer vacation" and "beach vacation" are interchangeable, you may already be familiar with Gulf Shores, Alabama. It's a special place on the Gulf Coast where you and your family can feel totally at home and in your element on our spacious white sand beaches, at our amusement parks, putt putt courses, and other attractions, and in our many restaurants and shops, finding souvenirs and making memories to carry you through to the next chapter of summer fun.
What is it that makes Gulf Shores, Alabama the place to be from spring to fall for families in the Birmingham area?
Family friendly zoning means spacious and peaceful beaches
There are plenty of beaches that offer the wall to wall beach bustle experience. Dozens of places to get henna tattoos, tattoo parlors and ear piercing available on each block, in fact, nothing short of a Jersey Shore experience! There's no shortage of beaches like that in the US, but Gulf Shores offers something different. Gulf Shores is the kind of beach where it's easy to close your eyes and relax on your beach towel, where kids can play happily and freely up and down the beach, and where dodging cigarette butts and trash isn't part of the "fun" of your vacation experience. Gulf State Park Beach was recently named one of the 13 cleanest beaches in the US, as well as highlighted by CNN just this year as a "can't miss beach" for its white sands beaches and 7 miles of trails. You're not likely to find a more peaceful, cleaner, or relaxing beach experience this close to Birmingham, Alabama - and isn't that what it's all about?
Delicious dining without the "tourist tax"
Feeding a family at the beach can be a headache. Leading your flock into a family restaurant and watching your eyes pop at the prices for fried seafood that never spent a day in the beautiful blue waters of the Gulf can sure put a damper on a night out. Fortunately Gulf Shores, Alabama, has no shortage of delicious restaurants that source seafood locally and prepare it deliciously, and a number of outposts where you can get fresh fish and shrimp to enjoy at your Gulf Shores rental condo. King Neptune's has made waves nationwide for the quality of its local seafood and the freshness of its preparation while sacrificing nothing in the way of family friendliness. Gulf Shores Steamer has earned accolades from sources as varied as Southern Living, the Houston Chronicle, and USA Today, which bestows on Gulf Shores the honor of being known for having some of the best seafood in the entire country. Get your foodie kicks without the foodie prices at our regional restaurants, a lineup which includes other noted restaurants such as Wolf Bay Lodge and Lulu's, run by Lucy Buffett, sister of a very famous songwriter you may have heard of named Jimmy.
All this food and fun just over a gas tank away!
Gulf Shores, Alabama, is only 4 and a half hours from Birmingham, and you'll start feeling the ocean breezes and smelling the sea air sooner than that. It's an enviable perk of living in Birmingham to have your hometown beaches be so beloved and unspoiled, fun-filled but not overheated. Come on down to Gulf Shores, Alabama, today!