Explore Alabama Food with Gulf Shores Dining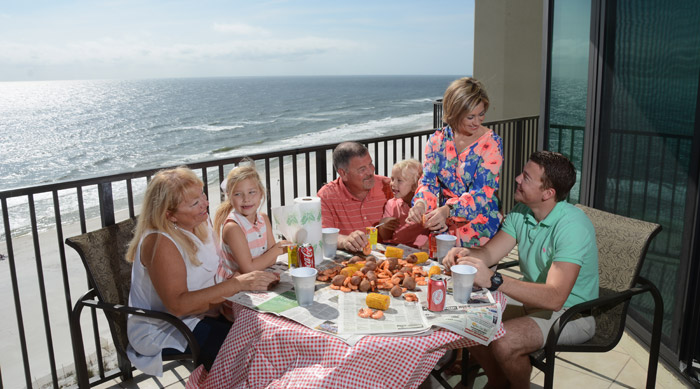 Fresh gulf oysters, crawfish boils, blackened snapper, shrimp Pontchartrain? Is your mouth watering yet? If you love seafood and southern cooking, you won't be disappointed in Gulf Shores dining. There's a variety of fish and seafood in season throughout the year. Depending on the month, you can find fresh crab, oysters, black drum, grouper, amberjack, snapper, shrimp, and several others.
Even if you don't like seafood, there's enough restaurant variety in the area to keep even the most reluctant fish eater satisfied. The Gulf Shores and Orange Beach dining scene has several family-friendly and kid-accommodating restaurants including local restaurants on the water, chain restaurants, Italian food, pizza joints, diners, wings and pub-style snacks. Browse our restaurant articles to find a place or a list of places that meets the needs of you and your family and is near one of our Gulf Shores condos or Orange Beach rentals.
Restaurants aren't the only option for excellent Alabama food. Instead of going out for every meal, save a little money by checking out the markets in the area. In addition to seafood markets, there are also farmers' markets in and around Gulf Shores where you can shop to make a meal healthy and complete with fresh vegetables or fresh meat. Check out our food articles to see what Gulf Coast food is in season and when. Find out where you can visit farmers' markets and what time they're open. You'll also find the best super markets and seafood markets to meet your needs. Additionally, check out recipes for cooking local Gulf Shores food in one of our Gulf Shores rentals or Orange Beach condos to feed the whole family while you're on vacation and save some money for that jet ski or boat rental.