Historic Blakeley State Park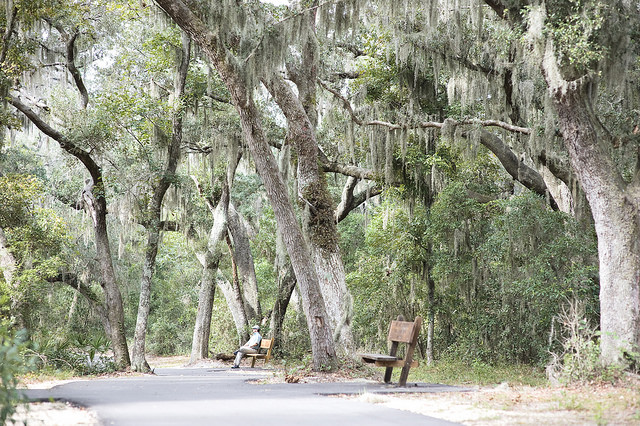 Blakeley State Park: History & Ecotourism Combined
Blakeley was once a bustling port town of American settlers that was established along the Tensaw River in Alabama. In the early 1800s, the population of Blakeley was greater than that of Mobile, and it became the county seat of Baldwin County. Shipbuilding was an important industry in the community and the 400-ton Mississippi and the 60-ton Tensas were both notable steamers constructed there. However, the community quickly faded before the Civil War when the yellow fever struck. Casualties were so high that mass graves had to be dug to bury the dead.
By the time the Civil War began, approximately only 100 people resided in Blakely, but Fort Blakely was constructed there regardless, and 4,000 soldiers were stationed in Blakeley to protect the city of Mobile. During the Battle of Fort Blakely, 16,000 Union troops would eventually gather under General Edward Canby's leadership to attack Fort Blakely on April, 9 1865. The sheer mass of the Union forces compelled the Confederate soldiers to surrender. Fort Blakeley was the last major battle of the Civil War, and by capturing Fort Blakeley and the nearby town of Spanish Fort, Union forces were able to occupy Mobile on April 12.
After the Civil War, Blakeley's local government was moved to nearby Daphne. Nothing remains of the Blakely community today except for a few ruins and historical markers. Most of the town's buildings were disassembled and transported to Mobile. The area has been designated as Blakely State Park. The grounds make a beautiful attraction for history buffs and nature lovers alike, just a short trip away from our Gulf Shores rentals and Orange Beach condos.
Camping & Trails
Historic Blakely State Park encompasses 1400 acres of woodlands along the Tensaw River. It is located on State Highway 225, five miles north of the town of Spanish Fort. There are several nature trails for hiking or biking, and there are grounds for traditional camping as well as RV camping. Park admission is $3 for adults and $2 for children ages 6-12. Young children get in free. If you choose to camp, admission is $6 per adult and $4 for children ages 6-12. Camping admission includes park admission. Tourists may also visit the Gatra Wehle Nature Center where visitors can view educational conservation and environmental exhibits as well as see nature films about habitats in the area. Three nature trails also begin at the facilities. The Gatra Wehle Nature Center isn't always open to the public, so it is best to call beforehand. See the contact information below.
Hikers in the park can visit the old Blakeley Cemetery that was established in the early 1800s where citizens of the former town of Blakely are buried. Many of these are pre-Civil War graves. There is also a preserved Civil War battleground at historic Blakeley State Park where visitors can see Union and Confederate fortifications. Annual reenactments of the Battle of Fort Blakeley are held in the park. Check them out when you're staying at one of our Orange Beach rentals or Gulf Shores condos.
The Delta Explorer
From historic Blakeley State Park tourists can take a guided two-hour eco boat tour on the Delta Explorer through the Mobile-Tensaw River delta. Passengers get to view several habitats including marshes, swamps, and forest. Exciting wildlife that can be spotted include alligators, black bears, turtles, and bald eagles. It's best to make a reservation, but walk-ons are also accepted if there is space. Boat tickets average around $25 for adults and $15 for children. Children under age 6 can board for free. See contact information below.
Gatra Wehle Nature Center
Green Street, Blakeley State Park
334-887-3007
The Delta Explorer
Blakeley State Park
Reservations: 251-626-5581
blakeleypark@aol.com