Welcome Snowbirds!
Winter in Alabama's Gulf Shores is for the birds. Snowbirds, to be exact. Every year, more than 10,000 visitors flock in to enjoy the warmer weather and escape the winter snows. Many come between January and March, though you'll find visitors at all times of the year. The Shores offer so much more than a summer beach environment, making them the perfect winter escape.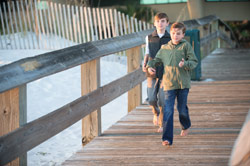 Despite the incredible vacationing opportunities, Snowbirds seem to be motivated by much more than the desire to escape. With Snowbirds in town the Gulf's volunteering and fundraising rates increase astronomically. Grant Brown, the recreation and cultural affairs director for the Gulf Shores, described Snowbirds as "almost more like a resident than a visitor. When they are in town, the amount of volunteer efforts that they participate in is truly amazing. They contribute, very unselfishly, their time and money."
Why do Snowbirds contribute so much to this area? Our Gulf Shores rentals are like their second home. Snowbirds are often repeat visitors, with many returning year after year to enjoy this down-home environment. In fact, a sizable portion of the Snowbird community is retirees who prefer to change where they live with each changing of the seasons. With its warm climate and incredible sights, the Shores makes a fantastic winter stay, and Snowbirds help to ensure it stays fantastic year after year.
When not volunteering, many Snowbirds pass the time by playing the holes at one of the many golf resorts. They bring a large group and stay out all day, often playing 36-holes every day. Though the courses themselves are enjoyable and challenging, what draws many eyes is the backdrop of the Gulf Shores' natural beauty. Imagine playing a round in which each time you look up, you have the chance to see dolphins swimming by or catch the migration of the monarch butterflies. Absolutely beautiful!
The Shores themselves have opened up to ensure Snowbirds feel completely welcomed and entertained. One way this has been done is by introducing an entertainment series during the winter months. Snowbirds can stop by one or all of the various concerts shown and listen to amazing music.
Of course, snowbirds still have the opportunity to partake in the events that occur all year long at the Shores. Ghost tours, amusement parks, nature walks, and quaint shops are all available. Because the water in the Gulf stays warm in the winter, they can even take a dip or enjoy one of the many boat experiences available. Try a winter experience at the Gulf, and you may easily become one of those Snowbirds who travels down south every single winter.