The Mancation Plan Itinerary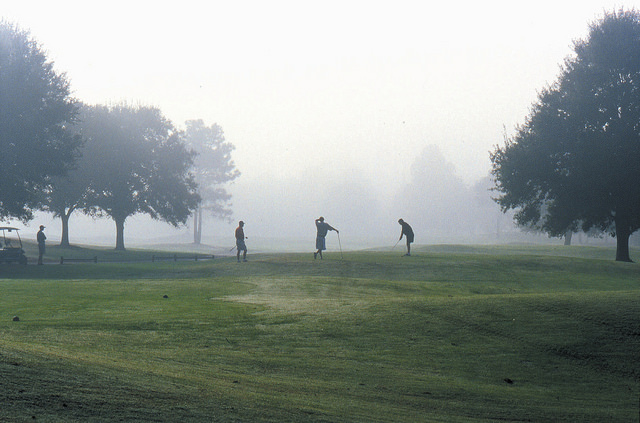 Sure, we've all heard that girls just want to have fun. But guys are pretty keen on the notion, too. Well, listen up, men! Get ready for all the Gulf Shores vacation ideas you can think of, including golfing, boating, sports, eating, and even all of the shopping fun you could ever want - all right here on the Alabama Gulf Coast with our mancation itinerary. Let's kick it in gear!
Day 1: Shopping, man-style!
Take the typical concept of a girls' activity and man it way up at the Tanger Outlet Center. Stock up your workshop at Direct Tools with the latest power tools and gadgets. Spruce up your sporting and outdoor wardrobe at Nike, Reebok, Tommy Bahama, Las Vegas Golf, Coleman Outlet and Mossy Oak. And don't forget the stereo equipment from Bose Factory Store! If the gals want to go to the Eastern Shore Center in Spanish Fort, plan your own adventure to Bass Pro Shop and lose yourself in a guy's shopping paradise.
Day 2: Golfer's Delight
With so many great courses, this is going to take more than one vacation. Revisit a favorite golf course or try a new one this time. The Alabama Gulf Coast is home to more than 200 holes of top-notch golf. And each one is an easy drive from any point in Gulf Shores and Orange Beach. So dust off those clubs, get the guys together and start swinging.
Day 3: Hit the Water
Get a workout paddling a kayak or canoe around our coastal waters. Or let someone else do the work when you rent a boat and captain to show you the area's best water views. You could even kick back and enjoy a dolphin cruise - it's okay, real men love dolphins! Or how about a half- or full-day deep sea fishing charter. Who wouldn't want to reel in a delicious meal?
Day 4: Hot Spots
Sometimes it's all about soaking up the atmosphere at the local hot spots and watching people enjoy the sun and fun of the Alabama Gulf Coast. Take a walk at The Wharf and experience the energy of the marina, the Ferris wheel, the cool shops and restaurants. Or head over to the Gulf State Park Pier and walk out for a truly unique view of the area. The second longest pier on the Gulf Coast is a great spot to drop a line or just watch other people catching tonight's meal.
For the upbeat pulse of the beach, visit the Gulf Shores Public Beach and catch a game of beach volleyball. And you can always start your day with a little people-watching from your balcony.
Mmmmm, Cheeseburger
We promise no one is counting calories and we won't tell on you. So sneak off and indulge your passion for the perfect cheeseburger. You know the one, cooked just the way you ordered it, all the right toppings, the cheese just beginning to melt . . . oh, my! Check out the mouthwatering burgers at Pirate's Cove, Tacky Jacks, LuLu's, The Keg and Ginny Lane. Go ahead and ask for extra napkins - you'll need them.
Day 5: Sporting Chance
There's no such thing as too much sports here on the Alabama Gulf Coast. Catch an exciting sporting match at one of the many tournaments that come to the area. We've got baseball, softball, track & field, tennis, soccer and more. Grab some friends and enjoy a little competition yourself. Explore area nature while you sneak in a little workout by hiking or biking.
Are you ready for your mancation? Learn about even more awesome vacation ideas by visiting our other Gulf Shores itineraries. Book your vacation today by visiting our online booking page or calling 800-211-7892!