What Gulf Seafood Is in Season in Spring?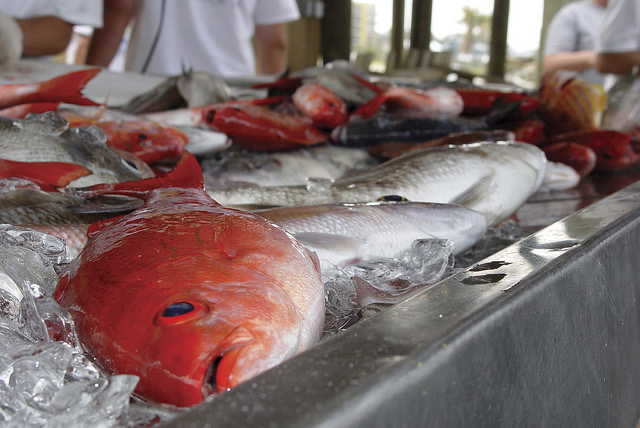 There's a lot of seafood that you can eat year round in Gulf Shores and Orange Beach, but if you want the freshest meals, you'll want to order what's in season. Below are four popular types of seafood that are widely available during the spring months.
Oysters
March is technically the end of oyster season, so get those fresh bivalves while you can. It's not hard to find good oysters in Gulf Shores?the Flying Harpoon, the Original Oyster House, and Sea-n-Suds are all great places to try. Enjoy your oysters grilled, fried, or raw on the half shell with a wide variety of dipping sauces.
If you'd like to prepare your own meal, consider trying a traditional Oysters Rockefeller recipe. You'll need to:
Clean your freshly caught oysters and boil them in a pot of water (with the shell still on).
Cool the oysters and break the top shell off.
Finely chop (or use a food processor to chop) cooked bacon, bread crumbs, cooked spinach, green onions, and parsley.
Combine finally chopped ingredients and add 3 tablespoons olive oil, a dash of hot sauce, and salt to taste.
Place half-shell oysters on a pan, and then spoon a dollop of the bacon-spinach mixture on each.
Bake at 450 degrees F for 10 minutes, then set oven to broil and cook until the tops are browned.
Grouper
Grouper, a member of the sea bass family, is in season during March and April. The fish's firm texture and mild flavor make it easy to prepare a number of different ways, including baking, frying, pan searing, poaching, and grilling. If you decide to grill grouper fillets, we recommend letting it sit in a marinade for a couple hours first, or just adding a dry rub of your favorite seasonings.
If you'd rather someone else handle the grouper preparation, try Lulu's Buffet or Bahama Bob's. Both offer fried grouper when it's in season.
Hard-Shell and Soft-Shell Crab
One of the best things about spring is that crab is back in season. For many people, this means cracking apart crab legs to get the buttery, melt-in-your-mouth meat inside. However, if you're someone who doesn't like the challenge of prying apart hard-shell crabs, you can avoid the hassle altogether by ordering soft-shell crabs. This tender meat is best when it's grilled or fried and battered, rather than boiled.
Try the soft shell crab dinner from King Neptune's Seafood, or get the soft shell crab po' boy at Acme Oyster House. You can also find crab claws on the appetizer section of most local seafood restaurant's menus.
Mullet
Mullet is a lean, firm fish that is popular along the Gulf Coast. There are many ways to prepare it, and the website of the official Mullet Festival in Florida has a list of great recipes. Since mullet is in season March through April, you can head to a local seafood market and buy it fresh (we recommend Billy's Seafood in Bon Secour).
You can also find the fish at many seafood restaurants in Gulf Shores and Orange Beach this time of year?ask what their fresh catch is, and there's a good chance it will be mullet!
Book your stay today with Brett-Robinson and enjoy fresh seafood at one of our great local restaurants!
[related-pages]