Gulf Shores Group Fishing & Family Fishing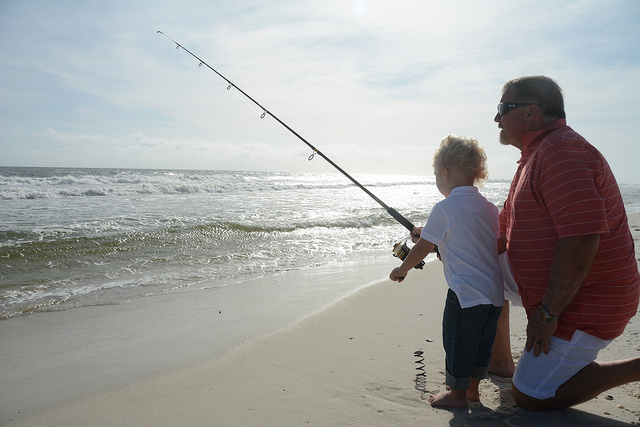 Fishing is a great way to get your kid's attention off of whatever it is on their phone they've been unable to look up from for the past year. Take them to the sunny Gulf Coast and introduce them to the powerful forces of nature. Thanks to charter boats, Gulf Shores group fishing can be a great bonding experience for the whole family, no matter how much previous experience Mom and Dad have with fishing. Out on the open sea, reeling in a giant snapper, your children will experience a rush of adrenaline that no round of Angry Birds can offer.
Deep sea charters have a six-person limit, so they're perfect for family fishing or group fishing. Fishing is a huge part of the economy in the Gulf, so there's no shortage of local charters happy to accommodate fishing newbies. By enlisting the help of a charter boat, you'll greatly increase your chances of reeling in an impressive catch.
With just your family on board, you'll have the attention of expert fishermen all to yourself. They'll advise you what bait to use, and make sure everybody has their bait attached correctly. Many charter fees include the cost of bait and tackle. In order to fish on your own in the Gulf, you must pay for a non-resident fishing license. With a charter, your boat provides the license for you and makes Gulf Shores family fishing easy.
You can pick a charter trip that suits the attention span of your passengers. Generally you can find charters that last from 4 to 6 hours. But if you're already a family of angler enthusiasts, overnight charter boats are available. Be sure to book your boat in advance, to ensure you get the charter boat fishing experience that's right for your family before you troop out from one of our Gulf Shores condos or Orange Beach rentals for your fishing adventure.
As long as your catch is in season, you can bring your trophy home to prepare for the grill at one of our Orange Beach condos or Gulf Shores rentals. But let's say want to get in touch with nature - but not that in-touch with nature. If you find the prospect of de-scaling and gutting your fish a bit too much, there's no pressure to eat your catch. Just bring a camera so you can capture the moment, and then set your fishy friend free.
We tend to forget just how much of our planet happens below sea-level. Your kids probably hear about saving the Earth every day. But in order to care about our natural resources, once in a while we have to be reminded they exist. Through Gulf Shores and Orange Beach family fishing, seek the ocean's bounty as a way of life and provide a great experience for outdoorsmen of all ages.