Gulf Shores Sports Lessons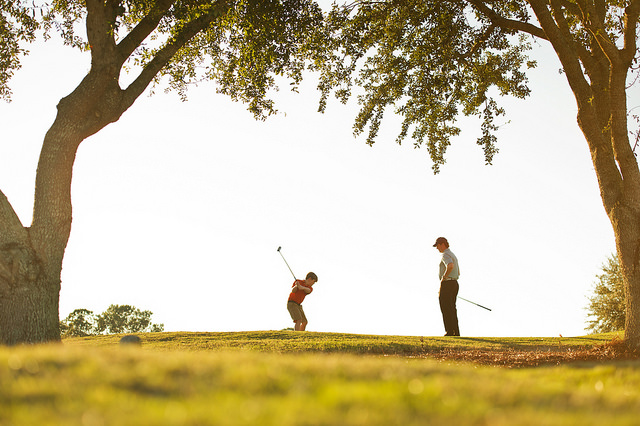 If you are on vacation in the Gulf Shores, it is a perfect opportunity to work on your game. Whether your sport is golf, tennis, or if you are training for competition, there are trainers and coaches who provide sports lessons in the Gulf Shores/ Orange Beach area.
If golf is your game, there are dozens of PGA professionals in the Gulf Shores/Orange Beach area working at local golf courses that can provide Gulf Shores golf lessons. You have the option of taking private lessons, group lessons, or signing up for a clinic. A clinic will focus on a single topic, for example chipping, bunker play or putting.
The Gulf Shores Golf Academy, offers lessons at Craft Farms, Kiva Dunes and the Peninsula Golf Courses. They offer a "Get Golf Ready", which is a series of 5 clinics aimed at the beginner. You can also sign up for private lessons. The rate for 3 lessons is $225. You can have a club pro play along with you for 9 holes for $150. Golf Digest reported that the Director of Instruction at the Gulf Shores Academy is "one of the best instructors in Alabama". He and his team are serious about learning, but "relaxed in teaching".
If you prefer a racquet to a club, look no further than the Gulf Coast Tennis Clubor the Orange Beach Parks and recreation department. Both offer camps and Gulf Shores tennis lessons for men, women, and youth tennis players. Private lessons are $48 per hour at the Gulf Coast Tennis Club.
Yet another option is the George C. Meyer Tennis Center, in Gulf Shores, Al. The tennis courts at the Center are open from 7:00AM to 10:00PM, 7 days per week. The center has 12 hard courts and 6 soft courts. This is a convenient option if you are looking for Orange Beach tennis lessons, also.
At the Orange Beach Parks and Rec center there is a summer kids program with rates from $80 per person for the two week session. The session meets 4 days per week, for slightly more than an hour.
Some visitors to the coast might be more interested in personal fitness. Our Orange Beach condosand Gulf Shoresrentalsdo in most cases have fitness centers on site, but if that is not enough, there are a number of training options. Many of the fitness and training centers in the Gulf Shores area have special programs tailored for visitors, along with personal trainers who will work with you while you are in town. Two examples are below.
Book your stay with Brett/Robinson at one of our Orange Beach rentalsor Gulf Shorescondos and have a fun, active vacation!
Beach Fit Fitness
3725 Gulf Shores Pkwy

Gulf Shores, AL 36542
Get Directions
(251) 967-4040
Fitness Factory
6642 B State Hwy 59
Gulf Shores, AL 36535
(251) 298-7622