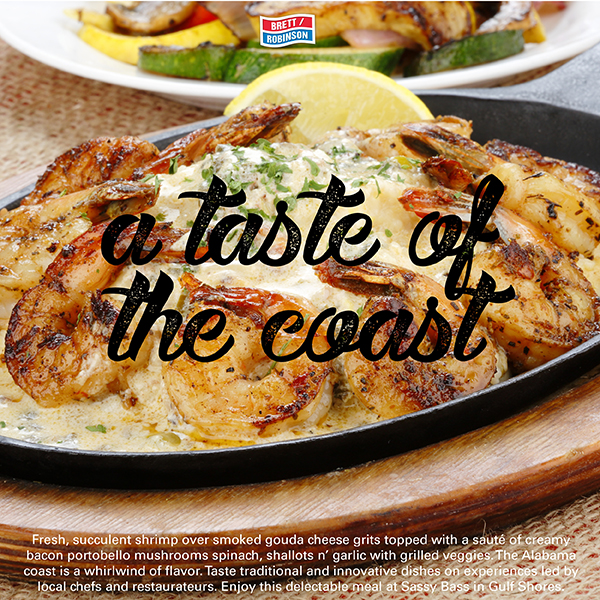 The Alabama Gulf Coast is a whirlwind of flavor. Taste traditional and innovative dishes on experiences led by local chefs and restaurateurs. Check out some of our favorites below, plus Lulu Buffett's homemade gumbo recipe.
Enjoy fresh, succulent shrimp over smoked gouda cheese grits topped with a sauté of creamy bacon Portobello mushrooms spinach, shallots n' garlic with grilled veggies at Sassy Bass in Gulf Shores. This rich, mouthwatering dish will not disappoint your taste buds.
If you want to enjoy an intimate, romantic dinner with some of the best seafood in the area deflect on Voyagers at Perdido Beach Resort's Perdido Cold Platter. The one-of-a-kind platter includes Gulf oysters, pickled jumbo shrimp, chilled spiny lobster tail, jonah crab claws and is served with remoulade, cocktail and mignonette.
King Neptune's Seafood Restaurant in Gulf Shores, provides the highest quality fresh seafood daily. They serve Alabama wild shrimp that are brought in right off of the boat from Bon Secour Fisheries. Their Royal Red shrimp platter is a must-have and is served with steamed new potatoes, fresh corn on the cob, and garlic butter toast.
Luna's Eat & Drink in Orange Beach will never disappoint. Try their crab and artichoke melt made with blue crab and artichokes blended with Parmesan and Swiss cheeses, oven baked and dressed with fresh greens on toasted BuzzCatz (their sister restaurant) white bread. You will be so happy you did, and your taste buds will jump with joy.
Sea-N-Suds in Gulf Shores is a local and tourist favorite for decades. It is located directly on the beach, you can enjoy beautiful sunsets and the sound of the crashing waves while dining on their outside deck. Come hungry because they are famous for their crab claw dinner, served with hush puppies, French fries and slaw. Sea-N-Suds is the perfect restaurant for traditional, fried seafood, but they also have a delicious, crisp salad bar you will not want to miss.
Located near Gulf Shores public beach, DeSoto's Seafood Kitchen is the perfect spot for dinner. They serve a traditional seafood bowl of gumbo, and it has garnered numerous awards. If you would like to try your hand at making gumbo at home follow LuLu Buffett's receipe below. This recipe has been in her family for years and remains a feature specialty at her restaurant LuLu's