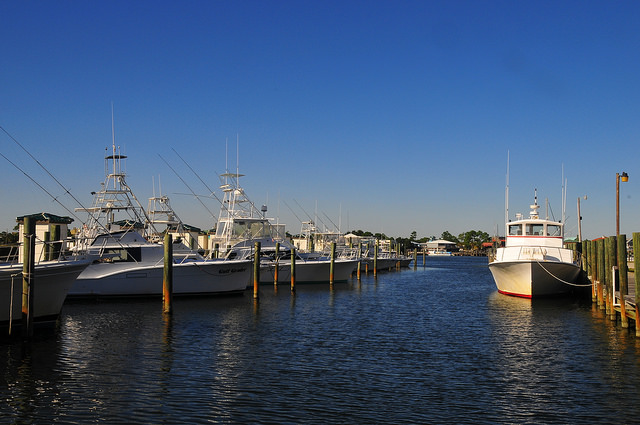 Rental Boat Routes on Your Brett/Robinson Vacation
You can't usually bring your boat along with you on your vacation to Gulf Shores, Alabama. Fortunately, in a seaside getaway with white sand beaches, you also have the option of affordable boat rentals for you to explore the beautiful waters of the Gulf of Mexico. Whether you're interested in a boat tour or a fishing expedition, there are plenty of Gulf Shores and Orange beach boat rental companies that can fulfill your needs.
Choose from pontoon boats for a party on the water, console boats for a fishing day, or a schooner or kayak. There's no limit to your boating adventures during your Gulf Shores vacation. It's a different world out there on the water; so, experience it with the right boat rental for you. You can experience a guided tour of the area or explore on your own while fishing.
Fishing in Gulf Shores and Orange Beach
The Gulf Coast in Alabama offers a multitude of inshore and offshore saltwater fishing. You can catch exciting fish species like cobia, red snapper, yellowfin tuna, and even rare blur marlin. Gulf fishing is an experience like no other—so book a Gulf Shores, AL fishing charter today and get out into the water and experience it for yourself with one of these excellent companies:
Reel Surprise Charters — One of the top deep-sea fishing charters in Gulf Shores, AL, Reel Surprise Charters offer safe and fun adventures for the whole family. They specialize in walk-on outings for both 4 and 6-hour trips. They also offer longer options as well.
Emerald Spirit Charters — You can find this world-class charter company at Sportsman Marina. Emerald Spirit Charter serves everyone from large corporate groups to small family outings and will craft a trip especially for you.
Distraction Charters — A family-oriented company that focuses on deep sea fishing and education, Distraction Charters offers basic angling lessons and longer full-day charters for more experienced fishermen. Their boats can be found at Orange Beach Marina.
With so many charter boat options in Gulf Shores, AL, you'll discover why residents love fishing and fresh seafood. Deep sea fishing is an experience you'll want to do each time you return to the Gulf.
Sailing and Pleasure Boat Routes
There's more to sailing than fishing. Enjoy a boating trip and glimpse the beauties of the Gulf, including the crystal-clear waters, beautiful foliage, or even a dolphin cruise. Relax with your family and friends on a sailing voyage on the Gulf. Charter services will create a route that matches your journey's goal. There are large expanses of stunning sea, lovely tucked away bays, and so much more.
Sailaway Charters — Whether you want a family cruise or a sailing adventure, Sailaway Charters has the boats and expertise you need. They offer nature cruises, fishing trips, and party adventures while you explore the Gulf.
Cetacean Cruises — Gulf Shores dolphin cruises, nature eco tours, and sailing cruises are just some of the experiences available at Cetacean Cruises. You'll be surrounded by shimmering blue water, friendly dolphins, all while listening to Caribbean music.
Sail Wild Hearts — For a one of a kind sailing experience, choose Sail Wild Hearts. The boat is a 52 foot long catamaran sailboat featuring a 72 foot mast rising over the boat and a sail area of over 1000 square feet. Come enjoy excitement you can't find anywhere else!
Every charter boat route in Gulf Shores and Orange Beach will be slightly different, so there's no limit to your pleasure. Book a sailing adventure today for more fun on your Gulf Shores vacation. Talk to a Brett/Robinson travel expert today.