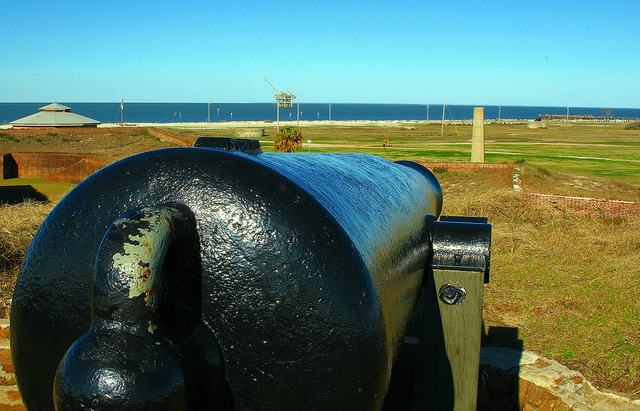 History runs deep along Alabama's Gulf Coast, and the sites depicting this history are endless. Civil War history holds a strong presence in the area, but visitors can glimpse other eras as well. The following itinerary will help you explore some of the rich Gulf Coast history and the historical attractions that share it. Follow this itinerary day-by-day to get the full historical experience of the Gulf Coast or choose specific historical attractions to add to your next vacation.
Day 1:
USS ALABAMA Battleship Memorial Park
Begin your Gulf Coast history tour at USS Alabama Battleship Memorial Park. The 44,500-ton, 680-foot USS Alabama battleship served for 37 months during World War II and earned 9 battle stars. Visitors can tour the USS Alabama, as well as a World War II submarine, combat aircraft, tanks and a Vietnam river patrol boat. A theater, concessions and gift shop are also on site.
Historic Blakeley State Park
Head east to Spanish Fort and visit the site of the last major battle of the Civil War at Historic Blakeley State Park. The preserved battlefield includes Confederate and Union breastworks and fortifications. Explore the 10.5 miles of nature trails throughout the park, as well as the boardwalk next to the Tensaw River.
Baldwin County Heritage Museum
Continue south to Elberta for a tour of the Baldwin County Heritage Museum, where "bits and pieces collected from the daily lives of the men and women who built this county" are on display. Special exhibits include the Baldwin History Walk that shares fascinating stories of the post-Civil War rebuilding of this area.
Day 2:
Fort Morgan
West of Gulf Shores sits the historic Fort Morgan, the guardian of Mobile Bay since 1834. Most famous for its role during the Civil War battle of Mobile Bay, Fort Morgan was also actively used during the Spanish-American War and World Wars I and II. Tour the fort and museum that features weapons, uniforms, letters, photographs and soldiers' personal items.
Mobile Bay Ferry
Board the Mobile Bay Ferry at Fort Morgan, which will take you to your next historic destination on Dauphin Island. The ferry takes about 30 minutes to cross the Mobile Bay, giving you plenty of time to observe a historic Civil War battle zone.
Fort Gaines Historic Site
Fort Gaines, situated on the east end of Dauphin Island, presents a history that spans three centuries. Visitors can tour the fort and learn about the role it played in the Battle of Mobile Bay during the Civil War, as well as its use during World Wars I and II.
Bellingrath Gardens and Home
Heading north to Theodore, Alabama, you'll find Bellingrath Gardens and Home. Here you can tour the Bellingrath Museum Home, a 15-room, 10,500-square-foot home built in 1935. The Bellingrath Home maintains its original furnishings, giving visitors a glimpse into life during the 1930s. Guests can also tour the various gardens of the estate.
Day 3:
Gulf Shores Museum
Return south to Gulf Shores and visit the Gulf Shores Museum, an original beach house donated to the City of Gulf Shores after Hurricane Frederic. The museum provides information on hurricanes Frederic and Ivan and how they impacted the Gulf Shores community. Hurricane-related artifacts, items from the early Gulf Shores and Bon Secour fishing and shrimping industries, and a collection of items from local World War II veterans are among the museum exhibits.
Orange Beach Indian and Sea Museum
East of Gulf Shores in Orange Beach is the Orange Beach Indian and Sea Museum, which is located in an old schoolhouse dating back to 1910. View local artifacts and memorabilia of the city's Native American and fishing heritage, including original schoolhouse furnishings, fishing equipment used long ago, arrows and spearheads, and military artillery.
National Museum of Naval Aviation
Cross just over the Alabama-Florida border to visit the National Museum of Naval Aviation in Pensacola. One of the world's largest aviation museums, it features more than 150 restored aircraft from the Navy, Marine Corps, and Coast Guard. View the exhibits, experience the flight simulators, and top it off with an IMAX film.
These are just a sampling of the historical attractions available on Alabama's Gulf Coast. Book your trip today by visiting our online booking page or calling 800-211-7892. For more Gulf Shores vacation ideas, visit our other itineraries. Also, below is a list of additional suggestions for the history enthusiast.
Forte Conde
This fort was constructed by the French in 1723 to protect against British and Spanish attack in Mobile.
150 South Royal Street, Mobile
251-208-7569 Website
Museum of Mobile
The Museum of Mobile is a National Historic Landmark building displaying 300 years of Mobile's history.
111 South Royal Street, Mobile
251-208-7569 Website
Fort Mims
Fort Mims preserves the site where more than 500 pioneer settlers were killed by warring Creek Indians.
60075 Highway 59, Tensaw
251-937-5490 Website
Swift-Coles Historic Home
This home reflects the lifestyle of the Charles Swift family, circa 1882.
17424 Swift Coles Lane, Bon Secour
251-580-1897 Website
Bragg-Mitchell Mansion
The Bragg-Mitchell Mansion was built in 1855 by Judge John Bragg, who spent much of his time each year at the house with his wife and family between Thanksgiving and Mardi Gras - the "social season" in the South.
1906 Springhill Avenue, Mobile
251-471-6364 Website
Oakleigh Historic Complex
At the Oakleigh Historic Complex, costumed guides lead you through three house museums depicting the society, servant and working-class aspects of daily life during the mid-19th century.
300 Oakleigh Place, Mobile
251-432-6161 Website