The Best Condos for Family Vacations in Orange Beach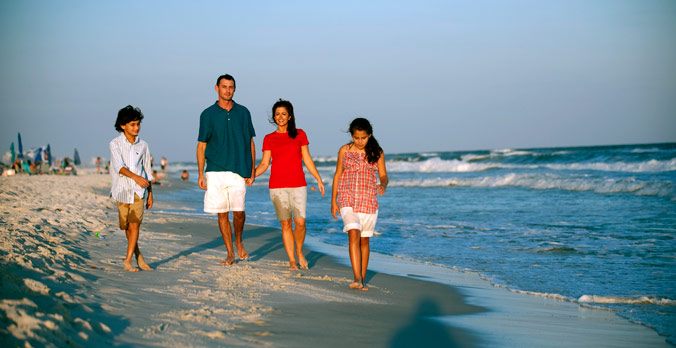 Choosing the perfect beach condo is important when planning your vacation to Orange Beach. There are many things to take into account: how many people are you traveling with? What do you want your vacation to look like? What amenities are important for you to have nearby? What is your budget for the trip? All of these questions will come into play when you are deciding on one of the 35 Orange beach condos or rentals that we offer.
One of the first things to consider is how much room you will need. Our condos in Orange Beach, AL range from holding about 4 people to 8 people on average, but depending on availability and the property, this number varies. If you're looking to travel with an even larger group, renting out two condos on the same property would be ideal to keep the group together and make the entire outing easier.
You will also have to consider the kinds of amenities you are looking for, and which ones you are able to do without. For example, if you are bringing young ones, having a Splash Pad, such as that found at Phoenix East, or a kiddie pool might be an important requirement. Or you might decide you don't need a workout room, because the nearby beach will suffice for the vacation. If you are planning on traveling during the winter months, but know you still want to swim, having an indoor or swim-thru pool, such as at Harbour Place and Tradewinds, would be an important amenity to consider. Of course, oftentimes the quantity of amenities and the price are often positively correlated, so it is all about finding a balance between the two.
The purpose and length of your travel is also very important when it comes to deciding on Orange Beach condos or rentals. Longer stays can change your budget for one condo, but it can also affect the amenities you're looking for. Many of the Phoenix properties offer full washers/dryers, which, if you are planning on a long stay, is very convenient and saves travel time to and from laundromats. If you are looking to save money on meals by cooking your own, a fully furnished kitchen, such as at Phoenix East, would go a long way in making your vacation more enjoyable and convenient.
If you are traveling for pleasure, and are looking for a relaxing vacation of pools and beach and lounge chairs, then choosing a beachfront property with lounge chairs to rent, such as at Emerald Skye. If you aren't interested in leaving the condo, but aren't particularly interested in spending all that much time at the beach, condos with extra activities, such as tennis courts (at many of the Phoenix locations), or a Lazy River (found at Phoenix on the Bay), or many pools (such as the 11 at Caribe the Resort). But if you want to explore, condos that are near attractions, such as the Phoenix IX, which is right near the south's largest Ferris wheel, are where you want to start looking.
Browse all of our Orange Beach condo rentals to find the right one with the right amenities and location for your trip.