Free & Fabulous Itinerary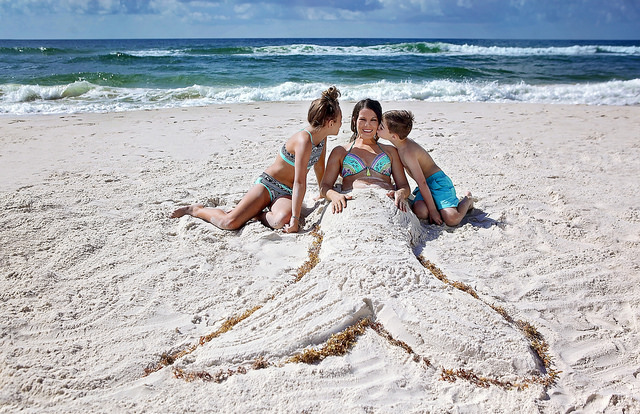 Are you looking for free ideas for your Gulf Shores vacation? Alabama's Gulf Shores offers a range of free things to do indoors and out. Stroll the beautiful beaches and scenic parks. Explore wildlife preserves and nature trails. Visit history museums and art galleries. Browse antique stores and boutiques. Without a doubt, Alabama's Gulf Coast proves the old adage, "the best things in life are free."
Day 1:
Escape To The Beaches
Take a sunrise stroll along the shore and build a sandcastle. Watch the colorful sails of windsurfers gliding by. Sit back in your beach chair and listen to the gentle waves roll in. Gulf Shores offers miles and miles of public-access beaches to enjoy, day after day after day. For more information, go to www.gulfshores.com.
The Orange Beach Waterfront Park
Overlooking scenic Wolf Bay, this peaceful family park offers paved walking paths, covered pavilions, a lighted Kids' Park, and picnic shelters with grills. Don't forget to bring your camera because the park's 400-foot pier provides the ideal way to capture a beautiful sunset. See www.obparksandrec.com.
The Orange Beach Arts Center
Soon to be rebuilt on the same grounds as the waterfront park, the Orange Beach Arts Center features The Hot Shop ? the only public access glass-blowing studio in the state. Look for "Live Glass Blowing" signs for a rare opportunity to watch glass artists at work. And while there, also stop in the Clay Gallery, where you are invited to make and/or paint pottery pieces. For more information and a calendar of upcoming events at the center, visit www.orangebeachartcenter.com.
Day 2:
Hugh S. Branyon Backcountry Trail
Open during daylight hours, the Hugh S. Branyon Backcountry Trail dates back to early explorers, settlers and indigenous people of the region. The route offers 15+ miles of paved trails with interpretive signs along the way highlighting points of interest. Stroll through sand dunes, marshes, swamps and a butterfly garden, and keep an eye out for the legendary "Catman" who some say lurks in the woodlands. Download hiking trail maps from the website.
The Orange Beach Indian & Sea Museum
Set within a 100-year-old schoolhouse, the Orange Beach Indian & Sea Museum offers a collection of historical artifacts and memorabilia dating back to the area's Native American and fishing heritage. From old fishing and farming gear to arrowheads, old schoolhouse desks and more, many of the items and photographs have been donated by local families whose ancestors settled the area. For more information, visit www.obparksandrec.com.
Day 3
The Foley Model Railroad Museum
The Model Railroad Museum in Foley takes you back to the height of the nation's railroad era. Set within an old railroad depot, it features a quarter-mile of model railroad track with three operating double-track routes. You'll be amazed by the workmanship and details that have gone into this fun and informative exhibition. The city of Foley is just a short drive north of Gulf Shores.
Holmes Medical Museum
While you're in Foley, stop in one of the area's most unique historical attractions. The Holmes Medical Museum is located at 111 West Laurel Street, housed within what was once Baldwin County's first hospital. Exhibits have been recreated using actual medical antiques such as an operating room, patient rooms, X-ray equipment, an old-time pharmacy and more. Intriguing medical quackery devices are also on display, and rumor has it that ghosts wander the hallways. For information about hours, call the museum at 251-970-1818.
Day 4
The Gulf Shores Museum
From tales of local shrimpers to the exploits of hurricane hunters, the Gulf Shores Museum offers a look into the early days on the Alabama Gulf Coast. Permanent and rotating exhibits include "Portrait of a Fishing Village," "Pilot Town," "From Sea to Shining Sea" and more. Later, take a stroll through the museum's beautifully tended garden. For more information, click through to www.gulfshores.com.
The Baldwin County Heritage Museum
Spanning 20,000 square feet and covering five acres of grounds, the Baldwin County Heritage Museum features grassroots displays of artifacts from the daily lives of farmers and families who settled the area. There are also outdoor agricultural exhibits to enjoy. The museum itself resembles a turn-of-the-century barn with a working windmill offering plenty of photo ops.
Day 5
Bon Secour National Wildlife Refuge
Considered one of Alabama's natural wonders, this 7,000-acre wildlife sanctuary is set on the Fort Morgan peninsula. With miles of hiking trails and refuge beaches to explore, each trail is a unique adventure and every season brings something new to enjoy. You can choose from easy one-mile strolls to hiking paths over four miles long. For complete information visit www.fws.gov/bonsecour.
The National Naval Aviation Museum
An easy drive east, the National Naval Aviation Museum in Pensacola, Florida is a must-see - and it's free. Spanning over 300,000 square feet, there are more than 150 historic aircraft, thousands of artifacts, and compelling exhibits from WWI, WWII, Vietnam and more. Be sure to check when the Blue Angels precision flying team is scheduled to perform one of their legendary air shows.
Day 6
The Civil War Trail
Take an easy drive to the Mobile area and see landmarks of history and the Civil War. Start with a hike down the Civil War Trail that runs through the site of the 1864 Battle of Mobile Bay. The Civil War Trail spans over 90 miles, from the Gulf of Mexico to north Mobile County. Explore the riverbanks where troops gathered and camped on their journey north.
Magnolia Cemetery
Head to Mobile and spend some time exploring the oldest sections of Magnolia Cemetery. Here you'll find extraordinary examples of Victorian-era funerary sculpture and architecture dating back to the 1800s. Listed on the National Register of Historic Places, notable gravesites include Confederate General Braxton Bragg, Civil War writer Augusta Evans Wilson, the famous Apache Chief Geronimo, and many others.
Day 7
Alabama Coastal Birding Trail
Spanning two counties, the Alabama Birding Trail offers miles and miles of opportunities to commune with feathered friends. Blue herons, pelicans, egrets and, depending on the time of year, other colorful species that stop here on their migration routes. There are several trail loops to choose from, so don't forget to bring a camera and binoculars. To download a free birding guide, visit www.alabamacoastalbirdingtrail.com.
Alabama's Coastal Connection
Drive along Alabama's scenic byways and enjoy distinctive sights found nowhere else in the world. Breathtaking coastline views, picturesque woodlands and bayous. Historic forts, shell mounds and Civil War battle sites. Of course, you'll want to stop along the way to snap photos or capture the natural beauty on video. For route maps and more information, visit www.alabamascoastalconnection.com.
There are so many free things to do in Gulf Shores that toward the end of your trip you'll be wondering, "Why do my pockets feel so heavy?" Get more vacation ideas for Gulf Shores and Orange Beach by visiting our other itineraries and use the money you'll save to find that dream rental with a beautiful gulf view! Visit our online booking page or call 800-211-7892 to book your vacation today!