4 Water Sport Adventures To Do in Gulf Shores & Orange Beach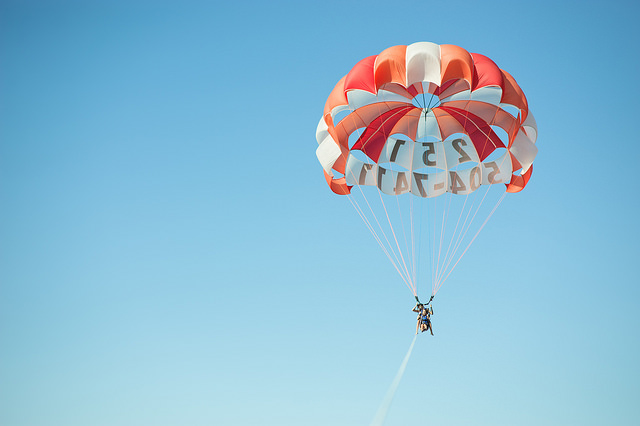 If you're taking a vacation to the Gulf Shores and Orange Beach area, there's a pretty good chance you're going to be spending some time relaxing on the white-sand beaches and wading into the Gulf. If you're feeling adventurous and love being on or in the water, there are plenty of water sports and other attractions you can do that go beyond a simple day at the beach.
Below are our picks for the top 4 aquatic activities you can enjoy in Gulf Shores and Orange Beach.
Scuba Diving
Wondering what's going on below the clear surface of the Gulf? There's no better way to find out than to go scuba diving off the coast near Gulf Shores and Orange Beach. One of the most popular diving spots in the area is Whiskey Wreck, a site about 150 yards out from the shore in front of Bahama Bob's Café. Divers can swim just past a sand bar to explore the remains of a shipwrecked rum runner. The water is only about 20 feet deep here, making this a good option for snorkelers and beginner scuba diving students.
There are several dive shops in the area that will rent you equipment, and if you've never been scuba diving before?or just want to brush up on your skills - you can sign up for a class with Down Under Dive Shop.
Taking a Dolphin Cruise
There are dozens of companies in Gulf Shores and Orange Beach that offer dolphin cruises, allowing you to choose the perfect trip for you. Whether you want to go on a romantic sunset cruise with a loved one or a dinner cruise with a large family group, you'll be able to find what you're looking for.
No matter what cruise you choose, you're sure to enjoy relaxing while the cool Gulf breeze blows around you and bottle-nose dolphins play nearby.
Parasailing
As with dolphin cruises, there are plenty of companies in the area that offer exhilarating parasailing excursions. If your idea of a good aquatic adventure involves being high above the Gulf, book a parasailing outing, and get a good look at the shoreline and natural areas that surround Gulf Shores and Orange Beach.
Kayaking or Stand-up Paddleboarding
Want to explore Alabama's coast and inland waterways while getting great exercise? Try renting a kayak or stand-up paddleboard. There are several popular spots for paddlers in the area: if you want to get away from crowds and motorized boats, start with Little Lagoon at Bon Secour National Wildlife Refuge. You'll get plenty of space to yourself and have the opportunity to look for dozens of species of birds. You can rent kayaks and paddleboards near Lake Shelby, a freshwater body of water that feeds into Little Lagoon.
Wolf Bay at Orange Beach Waterfront Park is another great option for paddlers and water sport enthusiasts. You can launch near the 400-foot pier that extends into the bay and stick near the shoreline to avoid choppy water. Keep an eye out for manatees, sea turtles, and dolphins.
Enjoy the Aquatic Activities Gulf Shores Has to Offer
Whether you're someone who loves an adrenaline rush or someone who prefers a laid-back afternoon on the beach, there are unforgettable aquatic activities waiting for you in Gulf Shores. Book a beach condo today and get to know the Alabama Gulf Coast a little better.