National Naval Aviation Museum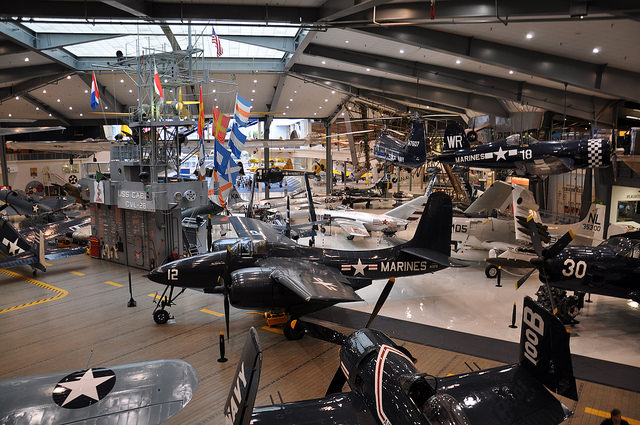 Got a kid who's crazy about video games? How about a fully grown kid called Dad who's fascinated with fighter planes? If so, you can add an extra treat to your Gulf Shores vacation with a trip to the National Museum of Naval Aviation in Pensacola. It's the world's largest naval aviation museum and it's less than an hour away from our Gulf Shores condos and Orange Beach rentals! Hop in the car for a short ride to experience flight simulators, view over 350,000 square feet of restored aircraft exhibits and see a movies in the IMAX or in 4D.
Aircraft & Exhibits
There are several aircraft exhibits with over 150 planes featured at the National Naval Aviation Museum classified by war or operation. War aircraft include fighter planes from WWI, WWII, the Korean War and the Vietnam War. Some of the aircraft have been amazingly restored after being recovered from the depths of lakes or oceans. Notable planes in the collection include the NC-4 aircraft, the first plane to cross the Atlantic, and the Que Sera Sera, the first plane to land on South Pole. Also see aircraft donated from the Coast Guard and presidential aircraft. In addition to aircraft exhibits, the museum displays military uniforms from various eras, newspaper clippings, letters, photographs, a Vietnam POW exhibit, a gigantic anchor from the USS Essex weighing over 30,000 pounds, a replica of the Nagasaki atomic bomb, and hundreds of other interesting artifacts as part of its naval history collection. For a list of aircraft on display and more detailed exhibit information, visit the website archives here.
Blue Angels in 4D
The Blue Angels are the U.S. Navy's official flight demonstration squad. They fly blue and yellow F/A-18 Hornet fighter planes and give flight demonstrations around the country, showing off their signature diamond flight formation. The National Naval Aviation Museum recently added the Blue Angels X4D Experience® as its newest attraction. Visitors young and old can enjoy a Blue Angels 3D air show in interactive seats with other special effects that are built into the theater to create a 4D experience that makes you feel like you are flying with the Angels.
Flight Simulators
After viewing all the aircraft and naval history exhibits, you and your kids can have an interactive experience in the MaxFlight 360 simulators. There are 2D and 3D rides available in simulators that move in six different directions to give the rider the illusion of flying. Up to 15 people can fit in some simulators. Participants can experience an air show with the Blue Angels or they can take off from an aircraft carrier in a Desert Storm operation. There are flight simulators that participants can control which are more expensive, and there are simulators that are just rides that give the full experience of a flight without operating controls.
Amenities
The National Naval Aviation Museum is wheel chair accessible with elevators and free parking. Admission is also free, but movies and flight simulators have separate pricing. There are packages available to experience flight simulators and the IMAX. There is also a souvenir shop called the Flight Deck Store where you can find a variety of gifts and clothing inspired by aviator gear. Free guided tours are available daily. There is a tour approximately every one and a half hours between 9:30 and 2:30. See the schedule here. Cubi Bar Café is the museum's restaurant that was designed after the Cubi Point Officer's Club, a major entertainment stop for Navy and Marine troops located in the Philippines. The menu includes salads, sandwiches, soup, desserts, beer, wine and a kid's menu. The museum is open year-round from 9am - 5pm and is great to visit from our Orange Beach condos or Gulf Shores rentals at any time. They are only closed on Christmas, Thanksgiving, and New Year?s Day.
National Naval Aviation Museum
1750 Radford Blvd., Suite C
Naval Air Station
Pensacola, FL
800-327-5002