Fort Mims: The Site of a Tragic Historic Tale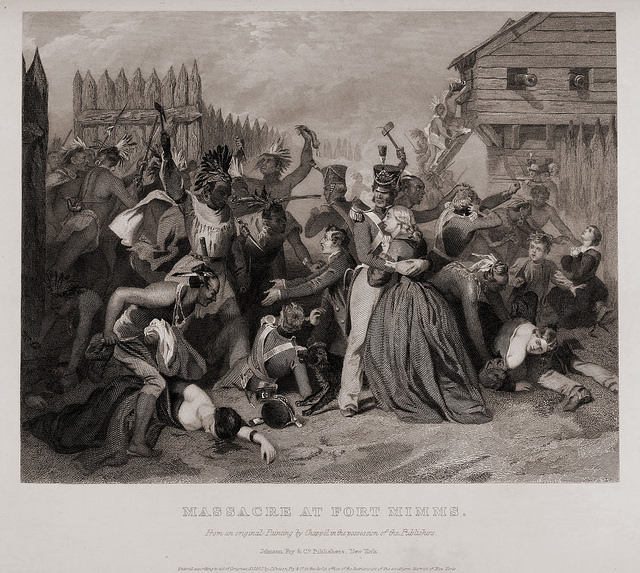 Fort Mims, located just outside Tensaw about 1.5 hours north of our Gulf Shores condos and Orange Beach rentals, is the historical site of the Fort Mims Massacre, a devastating battle of the Creek War which took place on August 30, 1813.
The Creek War began after the War of 1812 when the Creek Indian Nation split into factions. One side wanted to retain the values and culture of the Creeks and was against any more white settlers migrating to the region, while the other side wanted to integrate with European-American culture. The anti-American Creeks were called Red Sticks because they had raised the "red stick of war" which symbolized the declaration of war in Creek culture. The Creek Indians, also known as the Muscogee, were of a unique culture in that they were not nomadic and lived in thatched huts. They had domesticated animals and agriculture. Their culture was a closer fit to that of the Europeans than most other Indian tribes, and they were the first Indian peoples to be officially recognized as "civilized' under George Washington's plan.
The Red Sticks began launching attacks against other Creeks that were for integration and slaughtered their domestic animals that they relied on for survival. White settlers and mixed-blood Creek Americans became alarmed by these attacks and started to move into forts. American soldiers responded with attacks on Red Stick warriors and the United States officially entered into war with the Creeks. Major Daniel Beasley was posted at Fort Mims on the day of the infamous massacre and received warning that warriors were near, but paid no heed and set up no sentries. The Red sticks attacked during lunch time, killing around 500 militia, settlers and slaves. Others were captured. By 5pm, the battle was over. This was one of the largest victories in Native American history.
News of Fort Mims angered many and put General Andrew Jackson's army into action, leading to the annihilation of the major Creek force at Horseshoe Bend in eastern Alabama. One year after the massacre at Fort Mims, several Creek leaders signed the Treaty of Fort Jackson, ceding 20 million acres of Creek land to the U.S. The famous Red Stick chief, Red Eagle, also known as William Weatherford, walked unarmed into Andrew Jackson's camp and surrendered, openly stating that he was done fighting and regretted all the loss of life. Red Eagle's burial site is located just 2 miles of Fort Mims, Alabama and his grave can be visited there today.
To get to Fort Mims, drive north on Highway 59 from Gulf Shores until you reach Tensaw, which will take approximately 1.5 hours. Then turn left or head west on county road 80/Boatyard Road for three miles. Fort Mims Road will be to the right. The fort grounds are open every day from dawn till dusk and admission is free, except for during special events on living history weekends. There is also a small museum of artifacts excavated on site which include a gate latch where the Indians entered the fort, a pocket pistol, a bottle with the initials of a captain, and items that belonged to Red Eagle.
To contact someone regarding Fort Mims call 251-533-9024 or visit their website at http://fortmims.org/. For the history buff it is well worth a trip from our Gulf Shores rentals or Orange Beach condos!