Be Bold. Be More Adventurous.
Be more adventurous
Seek out new thrills with these heart-pounding experiences.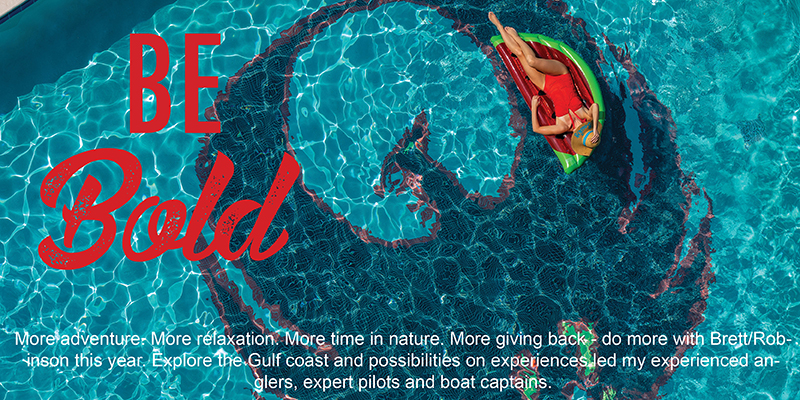 More adventure. More relaxation. More time in nature. More giving back - do more with Brett/Robinson in 2020. Explore the Gulf coast and possibilities on experiences led my experienced anglers, expert pilots and boat captains. Adventure and new experiences await. Just as the tide rolls in and out, the coast is ever changing. Even though the shores change with each wave, there is a nostalgic feeling of tradition that runs strong on the shores of the Alabama Gulf Coast. Whether it will be your first time to the gulf coast or your hundredth, new experiences, adventures and memories are waiting on you.

Offshore fish with an expert angler
Go for a thrilling trip off the coast

There is so much to do by water on the Gulf Coast. Fishing is by far a favorite for many. You can fish from the second largest pier on the Gulf of Mexico at the Gulf State Park, or surf fish the shore. You can also journey deep sea fishing into the deep blue sea or inshore fishing with a charter boat. Or you can try your luck catching blue crab off the Gulf State Park weir, on the back bay or off a pier.
High in the Sky


Fly high in the sky and see a view like no other with Orange Beach Helicopters. Their flights feature beach tours, romantic sunset, excursions and sky diving for adults and children. Custom requests are welcome! Another amazing path to take is parasailing. Feel the peace of soaring high in a parasail as you overlook the emerald green waters and white sands of the gulf coast.
Zipline & Ropes Course
Sail high in the air, experiencing adrenaline-pumping velocity and breathtaking views over land and water alike. The Hummingbird Ziplines are an unforgettable, high-adventure experience consisting of nine towers and eight ziplines over the length of one mile at The Wharf in Orange Beach. The zipline course takes you as high as 115 feet off the ground, providing a great vantage point for spectacular views of the stunning coastal scenery.
Boat & Sailing Tours


If you seek more adventure go full speed ahead in a jet ski, pontoon boat or set sail in a sailboat for the day. Bear Point Harbor in Orange Beach is the perfect location for all your exhilaration needs. Dolphin tours, pontoon and jet ski rentals are all available in one spot. Plus, a lovely view and restaurant to complete your experience is all onsite.
Surf, Paddleboard, Kayak, Canoe Tours
Set off in kayak, canoe or paddleboard on the Gulf, Gulf State Park or the back bays. See the area from a different vantage point, slow down and really take it all in. Rentals are scattered all along the back bays and the shores. Most will even deliver to you. Just do a quick web search and you will find exactly what you are looking for.
Snorkel and Scuba Diving
The Alabama Point jetties at the Perdido Pass Bridge in Orange Beach create a popular spot for snorkeling and even shore diving. You'll see plenty of crabs and marine life near the rocks. Shore divers and snorkelers alike can explore the Whiskey Wreck, just 150 yards off the beach in Gulf Shores. The wreck is an old Spanish rum runner said to have sunk in 1920 that is 200 feet in length, teaming with marine life. A short drive east will take you to the Perdido Key Snorkel Reef. Located at the Johnson Beach public beach access, the reef consists of 33 sections of artificial reef installed in March 2015. The reef is about 200 feet from the beach and is home to tropical fish and even sea turtles.
Dolphin Watching & Marine Life Tours
If you are a nature seeker and lover of all wildlife there is nothing like the experience of a dolphin cruise to see the area's wildlife and landscape. Dolphin cruises set sail from almost every marina in Orange Beach.
Family is at the center of the OWA experience.


Feel exhilarated at OWA, the new Southern Amusement and Entertainment destination and experience fun, food and games for everyone. The Park's 21 rides and new Wacky Waters splash pad provide a lot of thrills. Downtown OWA is admission free, meaning it's not only the perfect complement to a trip to The Park—it's a great place to stop by any time for shopping, a memorable meal or treat. From local favorites like Fairhope Soap Company to national names like Wahlburger's and the newly opened Paula Deen's Family Kitchen, there's something for everyone.