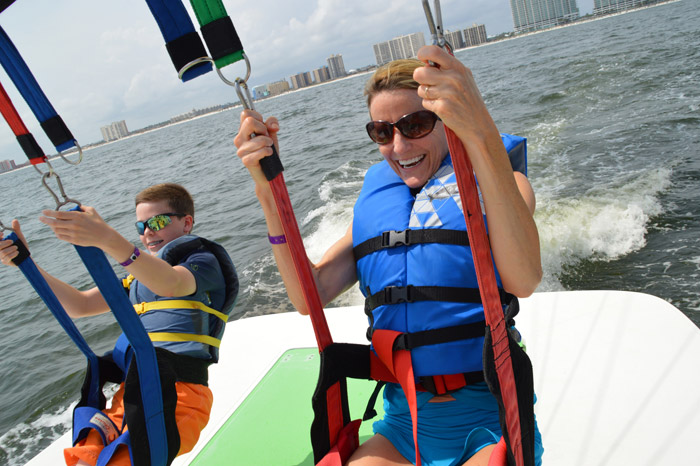 So you're planning a trip and are wondering, "What is there to do in Gulf Shores?" There are so many things to do in Gulf Shores, Alabama and each offering much more than sun, sea and sand! You'll find historic landmarks dating back to the dawn of American history. A wealth of nature preserves, hiking trails and eco-tours. Great shopping and dining options from beachside casual to elegant. If you're looking for fun vacation ideas to do beyond the water's edge, consider these Gulf Shores and Orange Beach daycation activities.
SHOPPING DAYCATIONS
The Wharf
In Orange Beach, The Wharf is a shopaholic's dream come true. Encompassing 350,000 square feet of retail space, there are premier stores and boutiques on Main Street and Wharf Parkway, plus shopping on the boardwalk at the marina. With a wide choice of excellent restaurants and eateries, you can spend the entire day and never miss a meal. Visit www.thewharfal.com.
SanRoc Cay Marina & Shopping Plaza
Head over to SanRoc Cay Marina & Shopping Plaza and browse eclectic boutiques featuring beachwear, swimwear, fashion, accessories and more. You'll love the laid-back pace of Blue Lagoon Swimwear, Too Hot Mamas, JG Gordon Interiors, Jane Loves Shoes and other unique shops. When you're ready for a lunch break, SanRoc Cay offers a choice of restaurants including Cafe Grazie, Louisiana Lagniappe and Gulf Shores Steamer. Visit www.sanroccay.com.
Alvin's Island
Alvin's Island is a tropical department store with unique gifts, souvenirs, swimwear, casual sportswear and more. Visit one of their two locations: 100 West Beach Blvd. in Gulf Shores or 24949 Perdido Beach Blvd. in Orange Beach.
Souvenir City
When it's time to shop for funky souvenirs and T-shirts for the folks back home, there's the famous Souvenir City. Family-owned since 1956, they offer two locations. Don't miss the shark's head photo op at the entrance of the Gulf Shores store at 217 Gulf Shores Parkway. Or stop in the second location at 24644 Perdido Beach Blvd. in Orange Beach.
Hollis Ole Crush Antique Mall and Tanger Outlet Center
Just a few minutes north of Gulf Shores, the town of Foley is a haven for antique collectors. One of the most popular is Hollis Ole Crush Antique Mall. Crowded with curios and memorabilia, you'll feel like you're poking around great-grandma's attic. Foley also offers some great second-hand stores where you might just find an overlooked treasure for sale. Before you leave town, shop for fantastic bargains at Tanger Outlet Center located at 2601 S. McKenzie Street.
Fairhope
In the nearby town of Fairhope, charming streets are lined with antique stores, art galleries and one-of-a-kind shops. Stop in the Eastern Shore Art Center to see museum-quality paintings and sculptures by local artists. You'll also enjoy taking a stroll around the town's scenic French Quarter.
ANIMAL-LOVER DAYCATIONS
Alabama Gulf Coast Zoo
Meet the stars of the 2006 Animal Planet Show "The Little Zoo That Could." The Alabama Gulf Coast Zoo is home to more than 300 animals including lions, tigers, bears, monkeys and more. Other highlights include a petting zoo, reptile house, aviary, animal shows and special exhibits. Just blocks from the beach, the zoo is located at 1204 Gulf Shores Parkway in Gulf Shores. For admission fees and exhibit information, visit www.alabamagulfcoastzoo.org.
Bon Secour National Wildlife Refuge
If you prefer to commune with nature in native habitats, visit Bon Secour National Wildlife Refuge. Located on the Fort Morgan Peninsula down Highway 180, this 7,000-acre wildlife sanctuary features refuge beaches and a variety of hiking trails ranging from one mile to over four miles long. For complete information, go to www.fws.gov/bonsecour.
Alligator Alley
True gator lovers should head north to Alligator Alley in Summerdale to see a feeding-time performance by their record-breaking star, Captain Crunch. Holding the world record at over 13 feet long and 800-plus pounds, this 38-year-old king of the Alabama swamplands has the strongest bite ever recorded. Alligator Alley features more than 150 snakes, other reptiles and gators, plus an elevated walking pier that leads you through the cypress swamps. For admission rates and feeding schedules, go to www.gatoralleyfarm.com.
Estuarium at Dauphin Island Sea Lab
The Estuarium at Dauphin Island Sea Lab is a place to learn about creatures of the deep blue sea. Tanks are brimming with fish, turtles, jellyfish and octopus. Visit www.sealabestuarium.org for complete information. Before you leave Dauphin Island, stop at the Audubon Bird Sanctuary and walk Alabama's Osprey Nesting Trail. You'll find other peaceful paths to hike, plus boardwalks with scenic views of the lake and woodlands. The Dauphin Island website can supply you with further information.
PATRIOTIC DAYCATIONS
Battleship USS Alabama Memorial Park
Experience the Battleship USS Alabama Memorial Park located at 2703 Battleship Parkway in Mobile. Here you can walk the decks of the famous "Mighty A" and explore the USS Drum, a valor award-winning submarine that served in the days after the Pearl Harbor attack. The park also features a collection of combat aircraft from WWI, WWII, Korea and Vietnam, plus an array of tanks, a Vietnam river patrol boat and more. For complete information, admission rates and directions, go to www.ussalabama.com.
The Civil War Trail
The Civil War Trail offers an opportunity to explore the riverbanks where troops gathered and camped on their journey north. Running through the site of the 1864 Battle of Mobile Bay, the Civil War Trail spans more than 90 miles, from the Gulf of Mexico to north Mobile County. While you're in Mobile, head downtown to the Fort Cond� Museum, a partial replica of an original 18th-century French fort where costumed guides lead intriguing tours.
Fort Morgan
See Fort Morgan, the guardian of Mobile Bay. Guides in period costumes will intrigue you with tales of heroism as you enjoy vignettes based on actual historical events. Famous for the pivotal role it played in the Battle of Mobile Bay, Fort Morgan also served in the Spanish-American War, World War I and World War II. In fact, many consider Fort Morgan to be one of the finest examples of military architecture in the country. For details as well as information about re-enactments and guided candlelight tours, go to www.ft-morgan.com.
Fort Gaines
Set on Dauphin Island overlooking Mobile Bay, Fort Gaines boasts a history that spans three centuries. Since its construction, control of the fort passed from France to England to Spain, and finally to the United States in 1817 when the government seized the territory around Mobile Bay. Fort Gaines also played a pivotal role in the famous Battle of Mobile Bay.
Blakeley State Park
Blakeley State Park in Spanish Fort, Alabama is a fusion of natural beauty and Civil War history. Here, 26,000 soldiers fought in the last significant Civil War battle, six hours after General Robert E. Lee surrendered at Appomattox. Set beside the scenic Tensaw River, the park features 10.5 miles of hiking trails, prehistoric Indian mounds and a ghost town - the 1814 City of Blakeley. For admission rates and guided tour information, click over to www.blakeleypark.com.
National Naval Aviation Museum
Enjoy free tours at the National Naval Aviation Museum in Pensacola, Florida. Encompassing 300,000+ square feet, it's one of the largest aviation museums in the world. See more than 150 historic aircraft, thousands of artifacts and compelling exhibits. For IMAX movie ticket information, go to
Another great option is the Alabama Coastal Birding Trail. Spanning two counties, there are miles and miles of trail loops to explore as you look for native and migrating bird species. To download a free birding guide, visit www.alabamacoastalbirdingtrail.com.
Kayak & Canoe Trails
If you prefer an adventure on the water, the Orange Beach Kayak & Canoe Trail offers a self-guided tour with 10 official launch points around Orange Beach. For kayak rental information and to download maps, go to www.orangebeach.ws. Also, Five Rivers Bartram Canoe & Kayak Landing offers guided tours along the beautiful Mobile-Tensaw Delta, the second biggest river delta in the USA (see www.outdooralabama.com).
PLAY LIKE A KID DAYCATIONS
Waterville USA
Set within 20 acres at 906 Gulf Shores Parkway in Gulf Shores, Waterville USA is considered the biggest and best water park in the South. Thrill seekers will love the awesome wave pool, exciting water slides, amazing FlowRider and more. For younger kids, there are rides, play areas and pint-sized water slides. Out-of-the-water attractions include a rollercoaster, a video arcade, go-carts, 36 holes of mini-golf and more. Located at 906 Gulf Shores Parkway, go to for ticket information. there are rides, play areas and pint-sized water slides. Out-of-the-water attractions include a rollercoaster, a video arcade, go-carts, 36 holes of mini-golf and more.
Adventure Island
Adventure Island truly lives up to its name. See a five-story-high erupting volcano. Race the go-kart track, ride bumper boats and play laser tag. There's an arcade with 100+ video games and a Max Flight Simulator, plus mini-golf, rock wall climbing, and rides just for little kids. Located at 24459 Perdido Beach Blvd., you'll find more information on the Adventure Island website.
The Track Recreation Center
Head to The Track Recreation Center and experience the Skycoaster, a 110-foot free-fall skydive that can reach speeds of 70 miles per hour. Race the Wild Woody, a three-story track with lots of twists and turns. Ride Blaster Boats, where water cannons give you a good soaking as you bob along. Located at 3200 Gulf Shores Parkway, The Track also boasts the most rides in town for the littlest adventurers, plus mini-golf, a video arcade and more.
The Ferris Wheel at The Wharf
The Ferris Wheel at The Wharf is the largest in Alabama. Soaring over 112 feet high, the 24 gondolas can hold up to 140 people at a time. While you're there, buy tickets to the Wharf's 175-foot long water slide, The Hippo.
The Exploreum
The Exploreum in Mobile offers ways to play like a kid while learning about science and nature. Hands-on interactive exhibits include the Body Works Exhibit, Ciba Lab, Minds On, a Bio Lab and more. There's also an IMAX theater presenting an ever-changing lineup of intriguing films. Visit www.exploreum.com for directions and complete information.
Mini Golf
If you're in the mood for a round of mini-golf, Gulf Shores has a great selection of places to go. For addresses and directions to Pirate's Island Adventure Golf, Zooland Mini Golf, Sharky's Family Adventure Park, Shrimpy's Mini Golf and Arcade, go to www.gulfshores.com.
REFRESH AND RENEW DAYCATIONS
Eden Spa & Salon
Eden Spa & Salon in Orange Beach offers Spa Day packages plus complete hair salon services, nail care and waxing. Licensed therapists and aestheticians provide facial treatments such as deep cleansing, exfoliation and hydration, plus a range of body treatments including massage, aromatherapy, body wraps and more. Call 251-981-8600 for directions and an appointment.
C.C.'s Full Service Salon
C.C.'s Full Service Salon in Gulf Shores will pamper you with a range of delights, including facials, massage, manicures, pedicures, waxing, cuts, colors, makeup and more. It's a great option for weddings and girls' day out. Walk-ins are welcome. Call 251-968-2077 for more information.
Fusion Spa Salon
Located in Orange Beach at The Wharf, Fusion Spa Salon, an exclusive AVEDA spa, features a comprehensive range of treatments and packages from head to toe, plus an extensive selection of fine facial, hair care and beauty products. Call 251-224-HAIR for complete information.
Serenity at the Beach Salon & Spa
Get rejuvenated at Serenity at the Beach Salon & Spa, located at SanRoc Cay in Orange Beach. Book a massage therapy session and watch your stress melt away. Then treat yourself to a new hairstyle and a polished look with a manicure and pedicure. Call for more details at 251-981-3031.
There are so many family-friendly and fun activities to plan for your Gulf Shores and Orange Beach vacation, but we've only scratched the surface! Get new ideas and plan the perfect Gulf Shores vacation by visiting our other itineraries - and when you've finished, you can use our online booking page or call 800-211-7892 to book your vacation today!