The National Shrimp Festival in Gulf Shores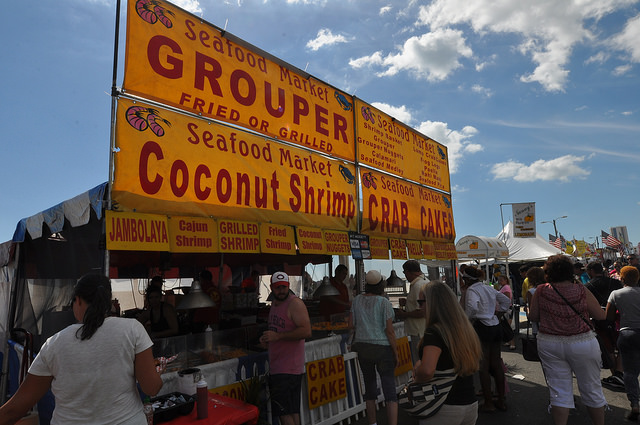 The Annual National Shrimp Festival in Gulf Shores, Alabama that takes place every October is full of fun! There's music, dancing, contests, races, art, and of course, shrimp. There's no reason not to attend this event during your stay at our Gulf Shores rentals!
The official music lineup for the National Shrimp Festival is always amazing, and has included local, national and internationally recognized artists like Dr. Zarr's Amazing Funk Monster, The Tip Tops, The Molly Ringwalds, Miranda Lambert, Leann Womack, Eddie Money, Blackjack Billy, and Everclear, just to name a few!
Contests include the Sand Sculpture Contest and the "American Idol"-inspired Shrimp Fest Singing for Scholarships contest. Participants in the sand sculpture contest can win $100 and bragging rights. Registration happens on the day of, so there's no need to reserve a spot, however, you might want to start thinking of ideas for your sculpture! The Shrimp Fest Singing for Scholarships is a Brett-Robinson sponsored singing contest that awards three scholarships to the winners.
The Annual festival also hosts a 10k race and a 5k race. All the net proceeds from these races are donated to the Coastal Baldwin Education Enrichment Foundation, which will benefit the local Gulf Shores and Orange Beach public schools.
Your choices for viewing and buying art at the festival are huge, because artists and craftsman travel from all over the world just for this event! In addition to seeing these smaller vendors, there is also a section of the festival for the fine arts, which will allow you to feel like you are walking through a high-end art gallery and allow you to meet any artist whose work is on display.
Don't worry - this festival isn't just for grown-ups! The Gulf Shores Shrimp Festival provides so many fun activities for children, so don't leave the kids at home! Arts, crafts, games, and entertainment are just a few of the supervised activities for the kiddos.
And of course, SHRIMP! You'll try fried shrimp, boiled shrimp, your favorite shrimp dish from last year, or a new shrimp dish just for this year. You'll be thankful your Gulf Shores condo or Orange Beach rental is so close to the National Shrimp Festival when you?re ready for a quick nap after your fill of shrimp. Each year the chefs at the festival challenge each other to create the best dish, so let's just let you be the judge of that! Besides shrimp, the festival also offers a variety of other seafood options and even options that aren't seafood, but whatever you do, don't forget to save some room for dessert.
For more information on the Gulf Shores, AL Shrimp Festival, be sure to check out our other articles, including our FAQ.