Gulf Shores Shopping: Clothing, Souvenirs, Art & More!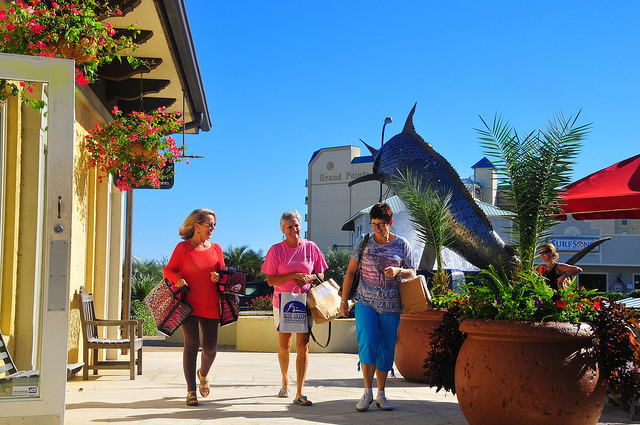 At Gulf Shores and Orange Beach, you can spend all day by the sea. But why would you? Your wardrobe isn't going to update itself! As much as you love swimming and sunbathing, there's nothing quite as relaxing as spending a leisurely afternoon looking for an accessory or a souvenir that will let you keep a little bit of your carefree summer with you all year-round.
You don't have to wander too far from our Gulf Shores condos and Orange Beach rentals to cross some important items off your list. The Wharf at Orange Beach is a convenient destination for beachgoers in the mood for boutique and souvenir Orange Beach shopping. Get something flirty at Ooh-La-La, a women's clothing store specializing in casual yet super-cute attire. Stop by The Bag Lady for beach souvenirs and beautiful cover-ups. Check out the designer women's clothing at Lucca, or Archipelago, a men's boutique for the "above average guy." Archipelago treats their customers to a free cigar with every purchase. For breezy women's fashions, stop by and see what's new at Utopia, an affordable, friendly boutique.
The Wharf has much more than fashion when it comes to Orange Beach shopping. If you're considering recreating the atmosphere of your beach house in your own home, make a beeline for Bungalows. Bungalows has a cheerful inventory of beach-inspired home d�cor, from a variety of name brands. You can customize your purchase right away - the staff at Bungalows is happy to monogram your purchase.
Coastal towns are a world unto themselves, and the gulf shore has its own unique breed of local talent. Living by the gulf, local artists always have somewhere beautiful to go for inspiration. Beachside galleries are a great place to pick up some new pieces for your collection.
Overlooking the marina, Compleat Studios on The Wharf sells original artwork, including photography, sculptures. Fine art pairs best with fancy snacks, so take some time to browse Compleat Studios' selection of wine, cheese, jams and jellies. Part of the proceeds from sales at Compleat Studios goes toward the Coastal Arts Center, in support of local Orange Beach artists.
Wall D�cor Frame Shop and Gallery, located north of the beach on Canal Road, showcases a wide variety of works by local artists. Here you can check out the latest paintings, sculptures, and pottery to come out of the thriving Gulf Coast art scene. In case you're inspired to produce some art of your own, Wall D�cor Frame Shop also offers custom framing.
Tanger Outlet, located about 20 minutes north of Gulf Shores in the city of Foley, has over 2,200 outlet stores. This Foley Alabama outlet mall allows you to buy directly from the manufacturer, typically cutting the cost of retail items by 30% to 70%. Shoppers are usually drawn to the wide variety of designer clothes in the Foley Alabama outlets, but Tanger sells a wide variety of products, including toys, books, and jewelry.
There's always at least one day out of every vacation when it's time to take a break from the sun and the sand. Break up your schedule with a little retail therapy, right by the beach. Whatever you pack for your trip to our Orange Beach condos and Gulf Shores rentals, be sure to leave a little extra room in your suitcase for the treasures you'll want to take home!