The Battle of Mobile Bay Commemoration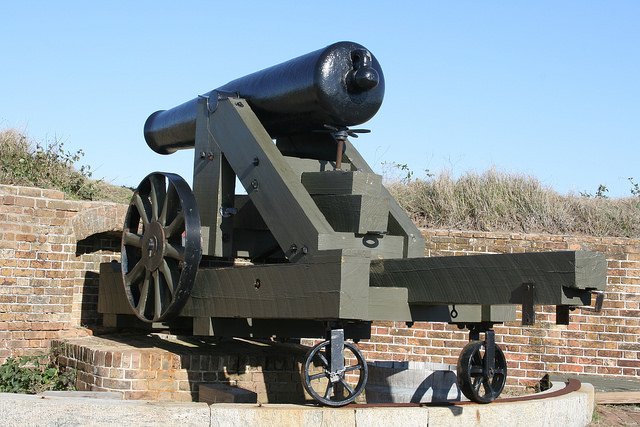 If you have a history buff among your family or friends, plan a trip to Gulf Shores or Orange Beach at the beginning of August. The Battle of Mobile Bay commemoration takes place the first Saturday in August every year at Fort Morgan. Fort Morgan is located on the very tip of the peninsula at the end of Fort Morgan Road. This famous Civil War battle was fought in an effort to keep Union soldiers from entering Mobile Bay to reach the last major Confederate port that had not yet been conquered by Union forces - Mobile, AL. Make your travel arrangements and begin your journey back to August 1864!
Fort Morgan was completed in 1834 and was taken over by the Confederacy in 1861 for defense during the Civil War. Eight days before Alabama seceded from the Union, Colonel John Todd led four companies of Alabama volunteers to capture the fort. The fort was then armed with 18 of its heaviest guns to protect the ship channel. During the Battle of Mobile Bay, Fort Morgan was attacked after Union troops managed to breach Fort Gaines on Dauphin Island. Fort Morgan's citadel was badly damaged during this attack. Union troops bombarded the fort for two full weeks before Major Commander Richard Page decided to surrender the fort on August 23, 1864.
Every year, historians recount the events of the Battle of Mobile Bay at Fort Morgan. There are also always artillery demonstrations using Civil War weaponry. These events will take you back in time and make you feel as if you were experiencing the Battle firsthand. There are often musical performances with instruments native to the Civil War era during the event. If you or someone in your group is a military history junkie, you may also want to drive to Mobile while you're at the coast to check out the USS Alabama Memorial Park where you can tour a WWII-era battleship and a submarine as well as view the aircraft collection.
After spending some time in the Civil War era, take a minute to enjoy the natural, pristine beaches and water of Dauphin Island. You can enjoy the cool surf of the Gulf of Mexico with your four-legged friends since the beaches at Dauphin Island are pet friendly! Anglers can cast their line, swimmers can enjoy the shallow beaches, and surfers can enjoy catching a wave. After that, you will likely need to grab a bite from one of the local restaurants, such as Pelican Reef or Barnacle Bills Marina Grill. Dauphin Island is easily accessible by ferry from anywhere on the Gulf Coast, especially if you are staying in Gulf Shores or Orange Beach, AL.
In one weekend, you can enjoy learning about the Battle of Mobile Bay and also relax on a beautiful beach on Dauphin Island! This is definitely the side trip to plan for early August. Book one of our Orange Beach or Gulf Shores condos for August now.