array(29) {
  ["id"]=>
  string(4) "1354"
  ["startdate"]=>
  string(10) "2021-12-10"
  ["enddate"]=>
  string(10) "2022-05-13"
  ["postdate"]=>
  string(19) "2021-12-07 00:00:00"
  ["title"]=>
  string(13) "Hang Out 2022"
  ["content"]=>
  string(1410) "

Here's your chance to book your Hangout stay and enjoy music from some of your favorite artists on the beautiful sugar-white sand beaches of the Alabama Gulf Coast. Brett/Robinson provides you the best places to stay with the best amenities! Stay within walking distance of the festival in Gulf Shores or really close to the Orange Beach trolley stops! 





You can book today with a small amount down and a few minutes of your time! Remember, the longer you stay the more you save! Reserve 4 nights and save 5%, 5-6 nights and save 7%, and 7 or more nights will save you 10%.  Call 877.398.5643 now or book online today! 





Book today and let's HANG OUT! 





We know that planning ahead can be nerve wracking. If you are concerned about a change of plans or a canceled trip, ease your worries with Travel Protection by CSA Travel.   Learn more about safeguarding your trip here.






"
  ["restrictions"]=>
  string(813) "

RESTRICTIONS: Subject to availability, restrictions apply. Rates subject to change without notice. Minimum stay restrictions may apply at certain locations.


"
  ["image"]=>
  string(67) "BRV-21-253-HangoutFest-LineUpAnnouncement-Nov5-PromoPageGraphic.jpg"
  ["image_filename5"]=>
  string(0) ""
  ["image_filename6"]=>
  string(0) ""
  ["image_filename7"]=>
  string(0) ""
  ["campaign"]=>
  string(15) "HangOutFest2022"
  ["specials"]=>
  string(0) ""
  ["feature"]=>
  NULL
  ["code"]=>
  string(0) ""
  ["postcardpic"]=>
  string(0) ""
  ["alttext"]=>
  NULL
  ["page_link"]=>
  string(90) "https://www.brett-robinson.com/specials-and-promotions/hang-out-2022?&icid=HangOut22121021"
  ["unique_id"]=>
  string(15) "HangOut22121021"
  ["date_array"]=>
  NULL
  ["hide_from_list"]=>
  string(1) "0"
  ["hide_countdown"]=>
  string(1) "1"
  ["seo_title"]=>
  string(13) "Hang Out 2022"
  ["header_tracking_code"]=>
  string(0) ""
  ["footer_tracking_code"]=>
  string(0) ""
  ["seo_desc"]=>
  string(0) ""
  ["slug"]=>
  string(13) "hang-out-2022"
  ["status"]=>
  string(5) "DRAFT"
  ["category"]=>
  string(7) "General"
}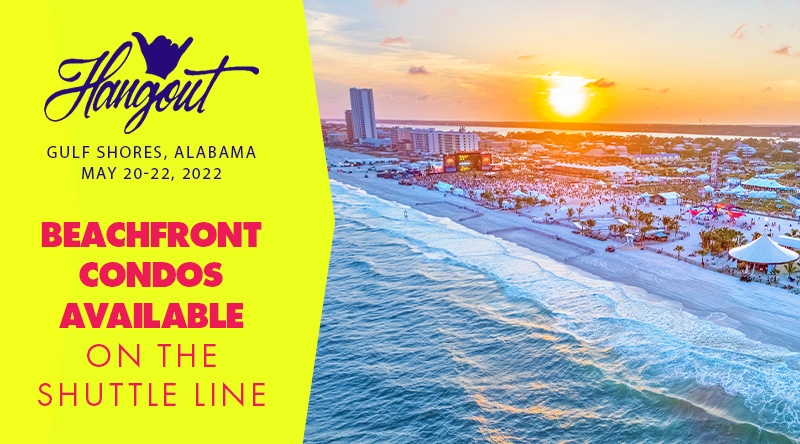 Hang Out 2022
Here's your chance to book your Hangout stay and enjoy music from some of your favorite artists on the beautiful sugar-white sand beaches of the Alabama Gulf Coast. Brett/Robinson provides you the best places to stay with the best amenities! Stay within walking distance of the festival in Gulf Shores or really close to the Orange Beach trolley stops!
You can book today with a small amount down and a few minutes of your time! Remember, the longer you stay the more you save! Reserve 4 nights and save 5%, 5-6 nights and save 7%, and 7 or more nights will save you 10%. Call 877.398.5643 now or book online today!
Book today and let's HANG OUT!
We know that planning ahead can be nerve wracking. If you are concerned about a change of plans or a canceled trip, ease your worries with Travel Protection by CSA Travel. Learn more about safeguarding your trip here.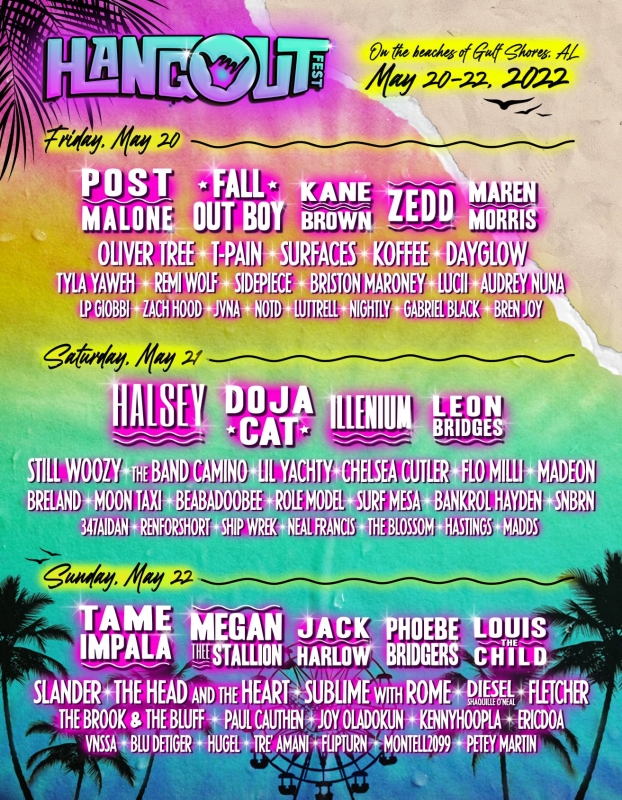 Offer Valid: Dec 10th, 2021 - May 13th, 2022
RESTRICTIONS: Subject to availability, restrictions apply. Rates subject to change without notice. Minimum stay restrictions may apply at certain locations.