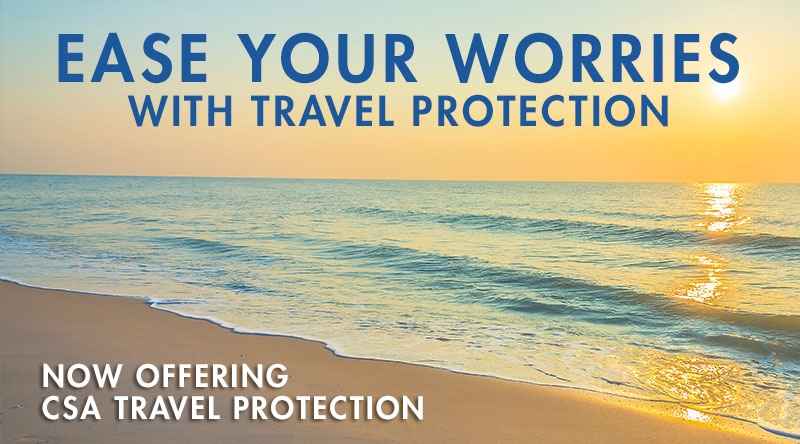 CSA Travel Insurance
Safeguard Your Trip with CSA Travel Protection
Before you go:
Trip Cancellation coverage keeps you from losing your vacation savings if you need to cancel for a covered reason. Plus, Concierge Services from our designated provider can help you make restaurant reservations and arrange tee times and more.
During Your Vacation:
The last thing you need is something to go wrong during your vacation. With coverage for Baggage Delay, Emergency Assistance, Trip Interruption and more, CSA's Guest Protection Plan can help you focus on enjoying yourself! Our designated assistance services provider can help with other issues that may come up, like the need for a medical referral or replacing medication or eyeglasses.
After You Are Home:
At CSA, the claims process is hassle free. One claims representative will work with you from the start to finish, making sure you receive the responsive, friendly service you need. Included Identity Theft Resolution Services offer you six months of service starting on your scheduled departure date.
CSA Travel Protection may be purchased through Generali Global online or call 866.732.8697 today to speak with our Local Vacation Specialists.
Offer ends: Dec 31st, 2022
Please see Generali Global Website for complete Terms and Conditions