12 Things You Didn't Know About The Alabama Gulf Coast

The Alabama Gulf Coast is known for its white sands, beautiful blue waters, and the kind of beach relaxation that makes folks like Jimmy Buffett call it home. The Gulf Coast is more than just your average beach, though. Read on for our hand-picked 12 Things You Didn't Know About The Alabama Gulf Coast!.
1 & 2
The Alabama Gulf Coast area is host to the Dauphin Island Sea Lab (DISL) is Alabama's marine science education and research laboratory. Research focuses on Mobile Bay but faculty travel to field sites as far away as Mexico, Australia, and Croatia and other countries. The Sea Lab is home to The Estuarium, a public aquarium that is home to creatures from local habitats. Among The Sea Lab's most interesting recent findings is that sharks have actually gotten smaller - grandpa was right when he told his tall tales! One of the groups that helped DISL put their study together, through the use of their historical data, is The Alabama Deep Sea Fishing Rodeo!
3 The Alabama Deep Sea Fishing Rodeo
Maybe fish aren't the first thing you think of when you think of a rodeo, but the Alabama Deep Sea Fishing Rodeo has been around for a long time, since 1929. Over 75,000 spectators attend each year to watch more than 3,000 anglers compete for a $400,000 pool of prizes. Be sure to rent one of the many comfortable Gulf Shores condos in July if you want to watch the Alabama Deep Sea Fishing Rodeo. July is also a perfect time to check out The Amphitheater at the Wharf!
4 The Amphitheater at the Wharf
Located in Orange Beach, Alabama, the Amphitheater hosts tons of popular acts during the summer months. The summer of 2013 has seen the Dave Matthews Band and Alabama perform, with other events, such as the Abita Beer presented Wharf Beer Fest, providing a variety of entertainment. You can always climb aboard the Ferris Wheel for some summer fun. For more amusement park fun, be sure to visit Waterville, USA!
5 Waterville, USA!
Located on 30 acres in Gulf Shores, Alabama, Waterville has lots of waterslides, a surfing/bodysurfing simulator, a lazy river, mini golf, and Cannonball Run, a wooden roller coaster. For indoor fun you can also play laser tag at Arena the Next Level. To experience a piece of history and learn about real battles, take your family to Fort Morgan.

6 Fort Morgan
Fort Morgan, a large military fort, active from the Civil War through World War II. Noted by some as "one of the finest examples of military architecture in the New World," Fort Morgan features guided tours, a museum of artifacts stretching across several wars, and periodic reenactments. To learn more about Alabama's military history, cross the Bay to reach Dauphin Island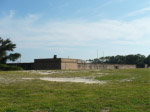 7 & 8 Dauphin Island
Dauphin Island, home not only to the Sea Lab but also Fort Gaines. It was at Fort Gaines that Admiral Farragut uttered the now famous expression, "Damn the torpedoes - full speed ahead!" Fort Gaines spans over 300 years of history, and reflects the range of influences on the Gulf Coast, from Spanish to French (the island itself is named after Louis XIV's grandson) to frontier to contemporary American.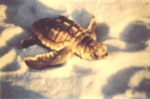 9 - 12
In addition to military parks, Gulf Shores also has state parks and wildlife refuges where a variety of animals, from dolphins to sea turtles to alligators thrive. The Bon Secour National Wildlife Refuge has over 6 miles of trails, as well as beach access. The Alabama Coastal Birding Trail has more than 50 sites in Baldwin and Mobile counties, offering opportunities to spot heron, osprey, and more. Alligators are naturally pretty shy, so it may be easier to find them at Alligator Alley, which has over 150 gators. The Alabama Gulf Coast Zoo can round out your nature experience. It's gained national attention for its efforts to be the first environmentally sustainable/green zoo in the world.
We think these 12 locations capture some of the Alabama Gulf Coast's flavor, but of course there is so much more. We invite you to come down to the Gulf Shores and discover our great coast for yourself!