Top 5 Seafood Restaurants in Gulf Shores/Orange Beach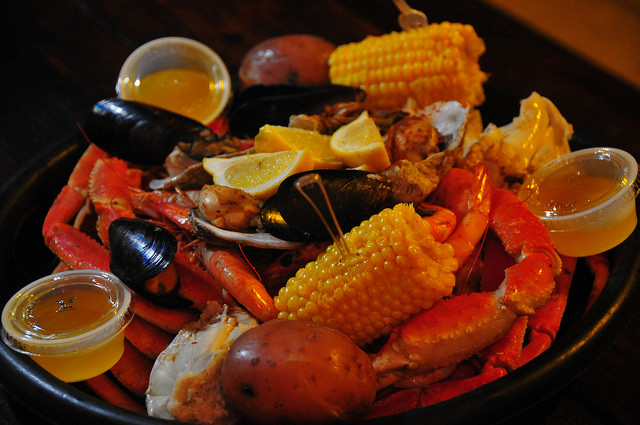 Besides the great views and wonderful weather, Gulf Shores, AL is known for its amazingly fresh seafood. Whether you are here visiting for a family vacation or a romantic trip for two, it is a must for you to visit one of the top seafood restaurants in Gulf Shores or Orange Beach listed below. Your taste buds won't be mad at you!
Fisher's
Fisher's is a dockside restaurant in Orange Beach that specializes in upscale Gulf Coast cuisine. Fisher's is actually two restaurants in one, with upstairs and dockside dining areas, and both are recommended by Southern Living. Upstairs offers a fine dining experience, with delectable appetizers and candlelit dinners. Dockside provides a more casual setting with indoor and outdoor seating in a landscaped grass courtyard. Both seafood restaurants are known for their Louisiana-inspired cuisine, and both speak to the versatility of Orange Beach and Gulf Shores: a destination that aims to serve and cater to each and every one of your needs.
Pirate's Cove
Pirate's Cove is a family-friendly and light-hearted restaurant where anyone can come and have a good time. This restaurant on Arnica Bay, north of Orange Beach, serves great food and hosts a variety of events for its diners. From open mic nights to an international songwriters' festival, this is a place that embraces and promotes fun and creativity.
The Hangout
The Hangout is another fun restaurant in Gulf Shores where everyone can come and enjoy great food and a good time. The Hangout has a menu filled with fresh fish that they bring in straight from the Gulf behind them, and their tasty drinks and scrumptious crab legs will make any diner happy. Besides the food, the Hangout has a list of live music events scheduled throughout the year.
Original Oyster House
Original Oyster House has become a fixture in the Gulf Shores community and is a great choice for a casual dining atmosphere. With a large and extensive seafood menu, you'll find a variety of great options. Consider trying out the fire-grilled oysters that take the flavor of oysters up a notch by adding cheese, garlic, butter and bacon atop a grilled oyster.
The Beach House
If you're looking for great food and inexpensive drinks, then The Beach House on West Beach in Gulf Shores is just for you. With a wide variety of items on their menu, it won't be hard for diners to find a dish that they will love. There is a happy hour every day, with $5 appetizers and half-priced drinks. They even hold happy hour all day at the bar, making drinks affordable at all times.
These seafood restaurants in Gulf Shores and Orange Beach are just a few of the many great dining spots the area has to offer and seafood is just one of many reasons to book a Gulf Shores beachfront condo for your next vacation. Other top seafood restaurant picks include Shipp's Harbour Grill, Cosmo's and Cobalt in Orange Beach.
[related-pages]