Things to Do at the Annual National Shrimp Festival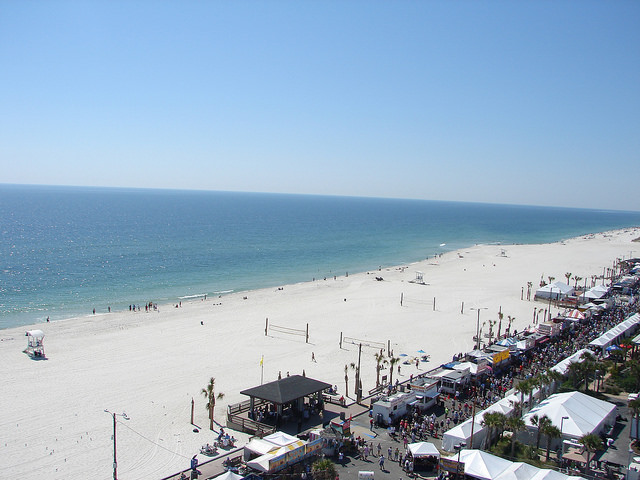 Although shrimp and all things seafood is the star of this festival there are many things to do besides consume shrimp dishes! Let's explore the other events and activities that can be experienced while attending the Annual National Shrimp Festival.
10K/5K Run
This official National Shrimp Festival running event dates back to 1977. The races normally start in the morning around 8 am. This event started as a 5-mile race but over the years a morphed into the popular event that it is today. It is also a charity event which will donate proceeds to the Coastal Baldwin Education Enrichment Foundation which in turn benefits the local schools in Gulf Shores and Orange Beach.
Arts & Crafts
This is not just your normal weekend arts festival. Artists and craftsman come from all over the country to show their beautiful, sometimes quirky art at the National Shrimp Festival. Stroll through the grounds and meet people from near and far who share a passion for making beautiful things. With such a diversity of artists you are sure to find something to purchase and take home to treasure!
Fine Arts Show
Although everyone loves the arts & crafts show, the shrimp festival also brings in high-quality artists from around the country. This art will be located in an impressive gallery just steps from the beach. You may be an art collector looking to add to your collection or just perusing the booths. Some of the types of art you will find are painting and sculptures. You will also have a chance to speak to the artists and find out what the inspirations are behind your favorite art pieces. When you just can't eat anymore, be sure to check out this unique part of the National Shrimp Festival.
Sand Sculpture Contest
Who doesn't like building epic sandcastles! Here is your opportunity at the Shrimp Festival Sand Sculpture Contest. At the Annual National Shrimp Festival, you can join in the fun by competing in the contest as a single participant or make it a family affair and build your sandcastle as a team - it's your choice. The contest is held on the west end of the beach at the public beach access, not far from our Gulf Shores vacation condos or Orange Beach rentals. Participants normally have around four hours to build their unique sand creations.
As far as the contest rules go, there is a maximum of 4 members per team. All participants will receive a sand bucket. The age categories are; 5-10 years, 11-15 years, 16 years & up - Adult, or the family category if you feel that you want to help your children. It also may be that you are all super competitive and want to see how you stack up against each other. Even better there are cash prizes for the winners!
Children's Activity Village
It wouldn't be a Shrimp Festival Gulf Shores style without a focus on family-friendliness and making sure the kids are having fun, too. Visit the Children's Activity Village to ensure the entertainment of little ones who may not yet have developed their palates enough to appreciate the Shrimp Fest's food. This area was created to provide supervised activities for the young ones such as, arts & crafts, games, entertainment and more. Children will love this area and parents will, too!
As you can see there are many things to do at the festival aside from indulging in the beautiful, delicious, Gulf Coast shrimp! With plenty of attractions, events and activities for both kids and adults, the National Shrimp Festival is sure to have something for everyone.