Delicious dining options for vegans, vegetarians and food allergies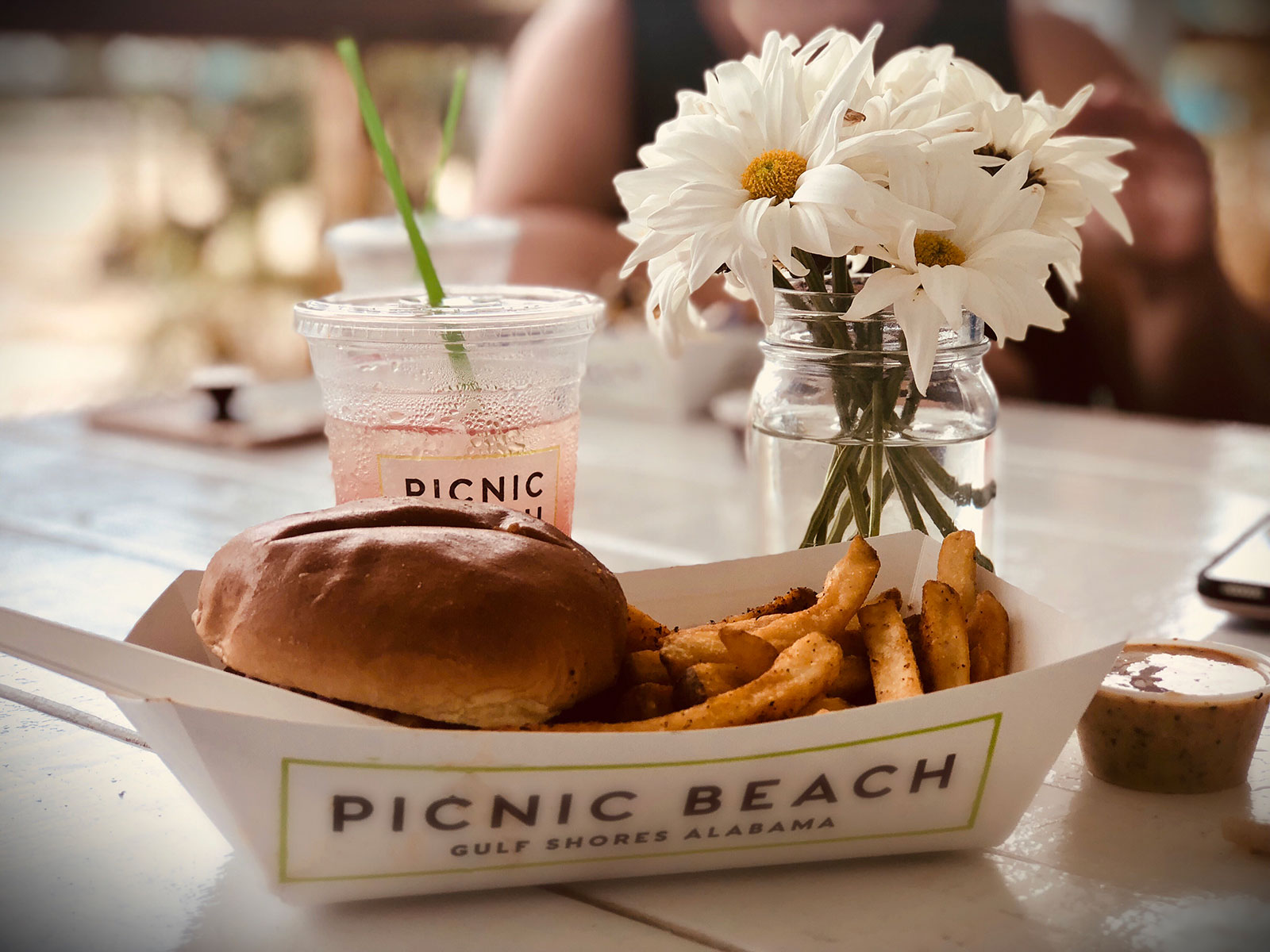 Do you have a special diet to adhere to or maybe a family member or friend? The Alabama Gulf Coast has several restaurant options to choose from that cater to vegans, vegetarians and food allergies.
Picnic Beach in Gulf Shores is the perfect choice for vegans and vegetarians, and those with a gluten allergy. For starters try their charred cauliflower house-seasoned with lemon and garlic tahina and their buffalo cauliflower wings flash-fried and tossed in their buffalo sauce paired with ranch dressing. They offer a delicious Beyond Burger that is plant-based patty with vegan American cheese, lettuce, tomato, red onion, and sriracha mayo on a whole wheat bun. As well as, a Beach Dog with beyond meats brats original plant-based sausage with pepper jelly, crispy onions and mustard BBQ. On the sweeter side, be sure to try out their Bama Breeze Smoothie, Strawberry Banana Smoothie, PB&J Smoothie, Gulf Punch Detox Juice and Beetbox Juice and Beach Berry Blast Acai Bowl. They also offer gluten free options including the Beach Bowl with grilled Atlantic salmon seasoned with salsa, lemon and cilantro, and the Plant Power Bowl with organic plant sausage with roasted sweet potatoes and sriracha BBQ.

LuLu's in Gulf Shores is a dream come true kind of restaurant for someone who has a food allergy. They have full menus for six separate allergens including dairy, soy, shellfish, gluten, seafood an egg. Plus, a menu just for vegans. They are the quintessential restaurant for those with allergies. Dining out has never been easier and more inclusive. Be sure to check them out on your next vacation.
Southern Grind in Gulf Shores and Orange Beach also has many options for gluten free diets and vegetarians including breakfast plates like their spinach and mushroom scramble, mozzarella, tomato and basil breakfast, avocado egg melt, oatmeal and yogurt and granola parfait. For lunch you can enjoy their grilled cheese panini on sourdough bread, mozzarella tomato and basil panini served on a ciabatta roll and their hummus veggie bagel served with a side of fruit. They also have many fresh for salads made specifically to meet your dietary needs.
If you are in the mood for some Mexican be sure to check out Cactus Cantina with two locations in Orange Beach and one in Gulf Shores. Vegetarians can enjoy veggie fajitas, spinach and mushroom quesadilla, spinach enchiladas and the famous cactus veggie burrito.
The Original Oyster House in Gulf Shores has an entire menu dedicated to gluten free dining, that is sure to please your palate. From mouthwatering appetizers to delicious sides and delectable entrees you cannot go wrong here.
Villaggio Grille in Orange Beach is the perfect option for Italian food while vacationing in Gulf Shores and Orange Beach especially if you are a vegetarian or have a gluten allergy. Indulge in wood fired oysters, fresh salads, and entrees made specifically for you.
There's nothing like sleeping in late and then indulging in a delicious breakfast or brunch to start off the day. Brick & Spoon in Orange Beach has many gluten free options including fluffy omelets and fresh greens.

Cosmos Restaurant & Bar on Canal Road in Orange Beach has an entire menu dedicated to gluten free options. Including appetizers, salads, entrees, sides and sushi. Plus, the chef will make accommodations for other allergies as well, like soy, egg and dairy. If you go to Cosmos once you will come back over and over again. It's really that good. Luna's Eat & Drink, Cobalt and GTs On the Bay all in Orange Beach accommodate allergies, and are happy to. You can't go wrong with any of these sister restaurants. They know how to cook a good dinner. Trust us.